Grumblethorpe
5267 Germantown Avenue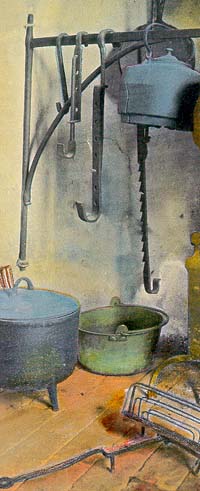 Source: Grumblethorpe pamphlet.
Grumblethorpe was the home of the Wister family. It was built in 1744 by Philadelphia merchant and wine importer John Wister as a summer home. It eventually became the family's year-round residence when they withdrew from the city during the Yellow Fever epidemic. The stones for the house were quarried on the property and the joists were hewn from oaks in Wister Woods, also owned by the family.
With its strong stone and oak facade, Grumblethorpe was known as "John Wister's Big House." It is also a charming house, with lower-ceilinged rooms than those at Cliveden, Loudoun, or Stenton. There is a "Courting Door" in the parlor that enters onto the street. The door was named after its primary use, to admit the swains who came to pay court to the Wister ladies. It was used at the time of funerals. The dining room is simple and intimate. There is a chair made by Solomon Fussel, who made the chairs in Independence Hall. The Wisters were interested in botony and horticulture and their lovely gardens reflect this interest.
The Wisters were staying in another home during the Battle of Germantown. General James Agnew occupied the house during the battle. He was wounded and died in the front parlor. His blood stains can still be seen on the floor.
The Wister family lived in the house for over 160 years. Today the house has been restored and refurnished to match the original period. The historic gardens are also being restored.
Sources:
1. Marion, John Francis. Bicentenial City: Walking Tours of Historic Philadelphia. Princeton: The Pyne Press, 1974.
2. Jenkins, Charles F. The Guide Book to Historic Germantown. Germantown Historical Society, 1973.
3. Grumblethorpe pamphlet.
---