Barron House and Stuart Studio
5106/5140 Germantown Avenue
The Barron House (5106 Germantown Avenue) was owned by Commodore James Barron from 1839 to 1845. During this time Barron was in charge of the Philadelphia naval yard. Previously, Barron was in command of the Chesapeake during the famous confrontation with the British vessel, Leopard on June 23, 1807. This naval confrontation was one of the major events leading up to the outbreak of the War of 1812. It was Barron who killed naval hero Stephen Decatur in a duel at the dueling ground in Bladensburg, Maryland, in March, 1820.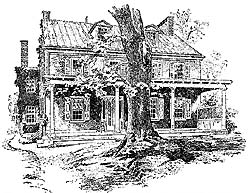 The painter Gilbert Stuart lived in this modest Germantown house and worked in his studio behind it. Photo from Jenkins.
Nearby, the famous painter Gilbert Stuart lived at 5140 Germantown Avenue and worked in a small stone building in the rear during the summers from 1796 to 1799. He painted the portrait of Washington now in the Boston Athenaeum and the Lansdowne portrait now on display at the Pennsylvania Academy of the Fine Arts. His full-length portrait of "Cornplanter," the Indian chief was done here as well. The studio building no longer stands.
Sources:
1. Photos by Greg Heller, Copyright © 2000 by the Independence Hall Association
2. Marion, John Francis. Bicentenial City: Walking Tours of Historic Philadelphia. Princeton: The Pyne Press, 1974.
3. Jenkins, Charles F. The Guide Book to Historic Germantown. Germantown Historical Society, 1973.
---