A

Walk in the Park

Franklin Square
One of Penn's original squares, renamed for Franklin in 1825
---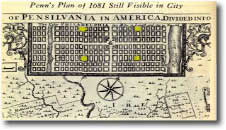 William Penn envisioned Philadelphia as a "Green Countrie Towne." Prominent in his design for the "towne" was a central square, with four other squares equidistant from the center. The five public squares, open green spaces to be shared by all, would be havens of respite in a busy world. Initially given humble directional appellations, northeast square, centre square and so on, today the squares bear the names of inspirational individuals in the city's history.
300 years after Penn completed his city plan, four out of the five squares are lush urban landmarks, places of retreat, refuge and even inspiration. The fourth is the hub to which all roads in the city lead, where City Hall is. Franklin Square, closest to the historic district, is a lovely park, with miniature golf, a playground, its old fountain, and a carousel.
Northeast Square was renamed for Benjamin Franklin in 1825. In the words of peripatetic historian John Francis Marion, "around Franklin Square...was lived much of the life we think of today as early American." After years of suffering from neglect, the park was revitalized in 2006. It is today surrounded on two sides by well-traveled roads and expressways and located hard by the base of the Benjamin Franklin Bridge.
Pictures in the Park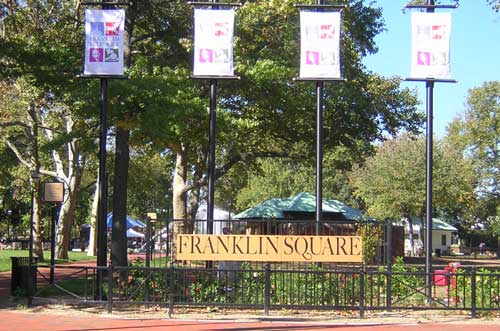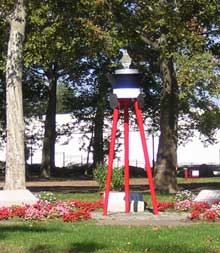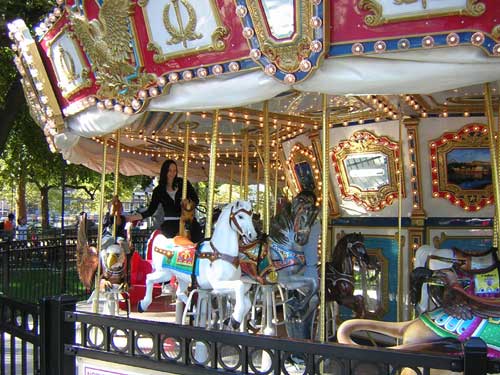 The Other Four Squares

Swann Fountain turtle
Northwest Square is today round and called
Logan Circle
. After serving briefly as a pasture, burial ground, and scene of public executions, the "square" renamed in honor of Penn's learned secretary, James Logan, is one of the most extraordinary spots in the city.

Swann Fountain angels
Located in the middle of the Benjamin Franklin Parkway, the magical Swann Memorial Fountain by Alexander Stirling Calder, is a work of aquatic aerial art. Full-mouthed turtles, nymphs and angels all spew awesome arcs of water high above the Parkway — an ongoing, elegant dance amidst the maelstrom of traffic and life that is a city.

David Rittenhouse
Southwest Square is today tony
Rittenhouse Square
, surrounded by prestigious hotels, restaurants, and shops. This square, named for the extraordinary colonial scientist David Rittenhouse, contains its own fine fountains, where generations of Philadelphians have come, many with children in tow, to be ensconced in a safe cocoon of green. Here, the white noise of the city is tuned out for a time.

Goat in fountain
Art exhibitions, flower shows, wandering minstrels, hand-holding lovers contribute to making this one of the best-used and best-loved parks in Philadelphia. Scientist Rittenhouse once led a group of astronomers charting the transit of Venus from a platform built behind Independence Hall. Today, one of the finest places to chart city life is from a bench in Rittehnouse Square.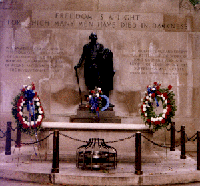 Tomb of the Unknown Soldier, Washington Square
Our first President spent many remarkable years in Philadelphia, and
Washington Square
, once known as Southeast Square, was named in his honor. This square is my personal favorite, as such the tendency is to say too much, prattling like an overproud parent. As we are on the Internet however, I can just send those interested to
www.ushistory.org/tour/_washsq.html
for a historic hike through a remarkable park.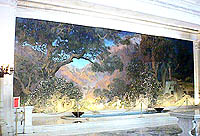 Tiffany's
Dream Garden in the Curtis Building
For those who choose not to follow the hyperlink, they will be missing such stories as the Tomb of the Unknown Revolutionary Soldier, the nation's first advertising company, the Curtis Publishing building, a Revolutionary Era prison, the nation's first book publisher, one of the country's foremost subscription libraries, a soupcon on a Bonaparte, and lots of tasty triviata.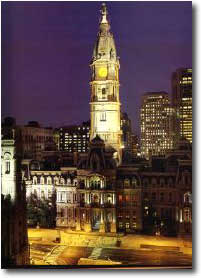 City Hall
Centre Square, is today named for the founder of Philadelphia, William Penn.
In the early 19th century it was a favorite recreational spot, located on then, the outskirts of town. For a time home to an architecturally magnificent water works, today the square bears the load that is City Hall. City Hall has generated decades of controversy, both on political and architectural grounds. All interested parties are urged to seek out more information on this singular edifice.
I will add however, that while unfortunately all our other squares have a problem from time to time with dog leavings, Penn Square has no such problem. Instead, it does have the disadvantage of having to clean up more than occasional leavings of the bull variety.
Benjamin Franklin was a city boy. Where others of means would escape Philadelphia's sweltering summers by removing to fine mansions in the countryside, Franklin would stay in the city working. He was also a man who dedicated much of his life to civic improvement, from promoting regular trash collection to agitating for environmental reform as early as 1739.