H

is Grave

"He Was Able to Restrain Thunderbolts and Tyrants"
---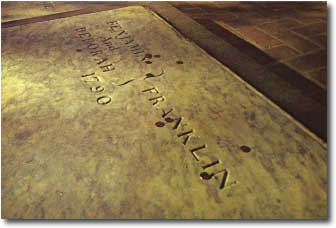 "No other town burying its great man, ever buried more of itself than Philadelphia with Franklin," wrote Carl Van Doren in his biography of Franklin.
Franklin himself had composed the black-bordered Pennsylvania Gazette which announced his death. Dr. Jones, Franklin's physician, informed the readers of Franklin's final illness. He had been suffering from empyema, pus filling in his lung brought on by attacks of pleurisy many years earlier. His temperature was high. This made breathing laborious, and he almost suffocated. After several days of breathing woes, the pain went away for a day, upon which he left his bed and asked that it be made properly so that he might have a dignified death. His daughter, Sally, told him that she hoped he would live many years more. "I hope not," he replied.
An abscess in Franklin's lung burst and he passed into a coma. He died on April 17, 1790, with his grandsons William Temple and Bennie at his side. Benjamin Franklin was 84 years old.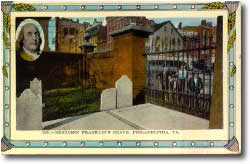 On April 21, the funeral procession gathered at the State House. Leading the cortege was the clergy of Philadelphia. Though Franklin was not a regular churchgoer by any means, he had aided the churches by raising funds to help their construction. His coffin was carried by the citizenry of Philadelphia. Dignitaries surrounded the Pall including Revolutionary Era Philadelphia mayor Samuel Powell, astronomer David Rittenhouse, and several members of Pennsylvania's Supreme Executive Council. Judges and current Philadelphia politicians were also in the mix.
They were followed by the printers of the city and their apprentices. Franklin always considered himself a leather apron man, a mechanic, a printer. "Keep they Trade, and thy Trade will keep Thee."
Then came members of the American Philosophical Society, which was co-founded by Franklin in the 1740's. Next came members of the College of Physicians. Franklin was a founding member of the Academy, which became the College of Philadelphia, which had created the College of Physicians, the first medical school in the country. The Society of Cincinnati found its way into the procession, though Franklin had derided their philosophy of making honor hereditary.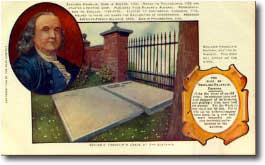 On the cortege wound, composed of citizens of all stripes, headed toward the Christ Church burial ground. It is estimated that 20,000 mourners gathered for the funeral. Bells of the city church's were muffled and tolled. When Franklin had arrived in Philadelphia's port on October 6, 1723, he was a broke runaway. Now the ships in the very same harbor Franklin had arrived in flew their flags at half-mast for the man who had enriched the world.
Franklin was buried beside his wife Deborah, who had preceded him in death by 15 years. His beloved son Francis Folger, who had died at age 4 from smallpox, was also in the family plot.
As a young man in 1728, Franklin had composed his own mock epitaph which read:
The Body of
B. Franklin
Printer;
Like the Cover of an old Book,
Its Contents torn out,
And stript of its Lettering and Gilding,
Lies here, Food for Worms.
But the Work shall not be whlly lost:
For it will, as he believ'd, appear once more,
In a new & more perfect Edition,
Corrected and Amended
By the Author.
He was born on January 6, 1706.
Died 17
His gravestone would simply read:
BENJAMIN
And FRANKLIN
DEBORAH
1790
America mourned.
James Madison moved that the House of Representatives, then sitting in New York, wear mourning for a month.
France mourned.
In June, Count Mirabeau suggested that the French National Assembly should wear mourning as well. His suggestion also provides a fitting eulogy.
Would it not become us, gentlemen, to join in this religious act, to bear a part in this homage, rendered, in the face of the world, both to the rights of man and to the philosopher who has most contributed to extend their sway over the whole earth? Antiquity would have raised altars to this mighty genius, who, to the advantage of mankind, compassing in his mind the heavens and the earth, was able to restrain alike thunderbolts and tyrants. Europe, enlightened and free, owes at lest a token of remembrance and regret to one of the greatest men who have ever been engaged in the service of philosophy and liberty. I propose that it be decreed that the National Assembly, during three days shall wear mourning for Benjamin Franklin.
Today thousands of tourists annually still come to pay their respect to Benjamin Franklin. His grave is visible through an iron gate at the southeast corner of 5th and Arch Streets. Pennies dot his tombstone, as a local tradition claims that such a practice will bring the penny-tosser luck.
One must wonder what the author of Poor Richard's Almanack might think of such a practice though. On the one hand, a man famous for the line, "A penny saved, is a penny earned," would not like throwing money away; on the other hand surely Franklin would recognize, it is only "common cents" that we would look to him for inspiration.
---