Temple's Diary
A Tale of Benjamin Franklin's Family
In the Days Leading up to The American Revolution
by Claude-Anne Lopez
---
Meet the Benjamin Franklin that only his relatives knew: his stubborn son, his frivolous daughter-in-law, his warm-hearted daughter, his prickly sister — all of them through the eyes of a 15-year-old boy suddenly transplanted from London to Philadelphia.
Claude-Anne Lopez was one of the world's leading authoities on Benjamin Franklin. This work of fiction draws upon her vast knowledge to bring history alive. Enjoy!
---
Contents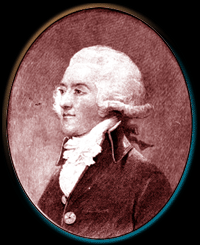 Reproduced by courtesy of the Yale Art Gallery
Portrait of William Temple Franklin by John Trumbull. Oil on panel, 1790-91.
---
Dedication
In loving memory of Deane Murray Sherman.
Launched November 2005
---