Historic Valley Forge
Washington Memorial Chapel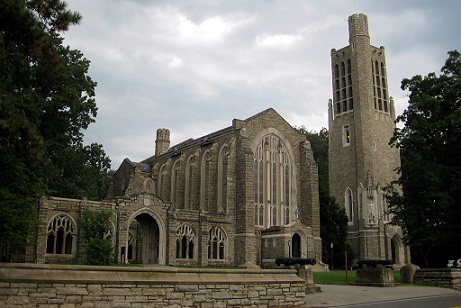 Photo courtesy of Wally Gobetz
Q.I am interested in the Washington Memorial Chapel for a research paper. If possible, please provide me with the date that is was built. Thank you for providing such great information on the internet about Valley Forge! Thank you for your assistance.
Evette M. Snyder, Allentown, Pennsylvania, History Major, Senior at Cedar Crest College
A.The cornerstone for the Washington Memorial Chapel was laid on June 19, 1903 — the 125th anniversary of the evacuation of Washington's army from Valley Forge. The original church building took several years to build. The first structure was a wooden building which itself was destined for fame. Then President, Theodore Roosevelt spoke from that chapel on June 19, 1904 about Valley Forge and patriotism. He was the first American president in office to do so.
Dr. Rev. W. Herbert Burk raised the funds for the chapel's constuction a few feet at a time. They would build what they could, money would run out and then they would fundraise for the what they could do next. At the same time, Dr. Burk was collecting funds and artifacts for the collection of the Valley Forge Museum of American History (which later became the Valley Forge Historical Society).
If you are interested in the early history of the chapel and the Society, you should try to find copies of two publications, one written by Dr. Burk and the other by his wife after her husband's death. Both are about the early founding of the Society and how the land was obtained, the building built and artifacts collected.
Making a Museum: The Confessions of a Curator By Rev. W. Herbert Burk, D.D. [Founder and Curator of the Valley Forge Museum of American History], 1926.
In the Beginning: at Valley Forge and the Washington Memorial Chapel By Eleanor H.S. Burk, 1938.
Another, more modern publication, would also give you some early information on the chapel .
Valley Forge: The Making and Remaking of a National Symbol by Lorett Treese, published in 1993.
---