September 3, 1775
This morning, I screwed up my courage to ask my grandfather a personal question about education, given that he loves education in general and mine in particular.
— "Grandfather," I said, "I am as you know enrolled in the College of Philadelphia, but Provost Smith, I thought, looked at me in a funny way when he heard I was your grandson. You did not see it, you were talking to someone, but I have been wondering about that. Do you know him?"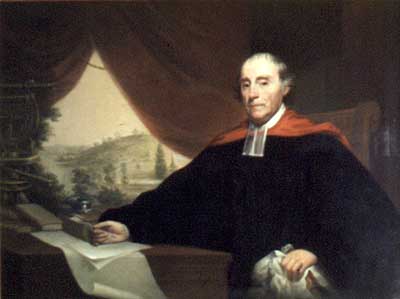 William Smith, D.D., copy after painting by Gilbert Stuart, University of Pennsylvania
— "I do indeed. I have known him almost since he arrived from Scotland, as a young man, a very intelligent and ambitious young man. He had some interesting ideas about education and explained them in a short book entitled A General Idea of the College of Mirania. Like me, he proposed that education be practical and prepare the students for earning their living, while giving them sound moral values. To get through life, a man needs much more than a thorough knowledge of Scripture, Greek, Latin, Hebrew and so on. He must know how to use his hands. I liked Smith's plan so much that I decided he would make a good head for the Philadelphia Academy that we were preparing to launch in the mid-1750's, the one Benny is attending now. The college you'll be attending next month came later."
— "So he must be much obliged to you!" I said. "I'm glad to hear that."
— "No" said Grandfather. "Unfortunately, he insisted on going back to London to be ordained in the Anglican Church before taking up his post at the Academy. While there, he made friends with Thomas Penn, the unworthy son of the wonderful William Penn who founded Pennsylvania. Thomas had become Proprietor of Pennsylvania about ten years earlier, inheriting most of the land in the colony, yet paying no taxes, and precious little attention to the welfare of the inhabitants. The Reverend Smith came back to Philadelphia as Penn's man, and has been meddling in politics since then. We're not on speaking terms anymore."
Before I could say anything, Grandfather asks me to let him rest. He's had a very hard time these last few days, he explains. (As if I didn't know!). He will tell me some day about his dispute with Smith, but not now. Then he changes the subject. He puts his hand on my shoulder and says: "Whatever happens, Temple, you must always obey and respect your father. He loves you very much."
How strange. Those were almost the very words my father addressed to me as we parted: "Temple," he said, "you must never forget all you owe to your Grandfather. He has been a kind and attentive parent to you. Honor him as long as he lives."
Easy to say, all that. Those adults expect from us young ones what they are unable to do themselves. It is allright for them to give way to their passions, to quarrel, to be unforgiving. But from us, stranded in the middle, they expect perfect loyalty to both sides. As if that were possible!
I need a pleasant thought to go to sleep with. It will be good to see Aunt Sally and her baby Hannah. And with the allowance that Father gave me ("to last until Christmas, mind you!"), I might even buy a present for the dimpled girl ...