Temple's Diary
A Tale of Benjamin Franklin's Family
In the Days Leading up to The American Revolution
Meet the Benjamin Franklin that only his relatives knew: his stubborn son, his frivolous daughter-in-law, his warm-hearted daughter, his prickly sister — all of them through the eyes of a 15-year-old boy suddenly transplanted from London to Philadelphia.
Sign the Guestbook Tell us what you think!
Listen to the Author
Claude-Anne Lopez read from "Temple's Diary" on November 16, 2005, at Christ Church in Philadelphia to launch the completion of this project, written exclusively for this website. She is the author of several books on Franklin and we are proud to host this wonderful story.
Contents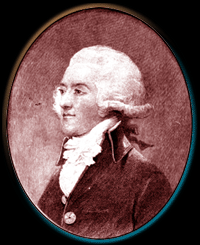 Reproduced by courtesy of the Yale Art Gallery
Portrait of William Temple Franklin by John Trumbull. Oil on panel, 1790-91.
Dedication
In loving memory of Deane Murray Sherman.
Launched November 2005