Historic Valley Forge
Painting of Washington in prayer
Q.I am looking for a print of a famous painting in which Washington is saying the prayer over the troops at Valley Forge.
Jason White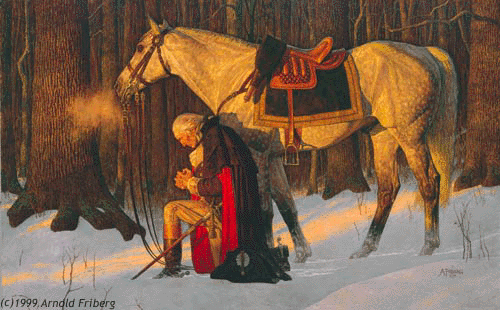 A.

There are a number of images of Washington in prayer at Valley Forge. They include him kneeling in the snow, kneeling in the grass, kneeling by his horse, etc. The most popular one is the painting by contemporary artist, Arnold Friberg, called
The Prayer at Valley Forge.
It depicts Washington kneeling in the snow by his white horse. It was created for the nation's bicentennial.
The Mount Vernon website has a good description of Washington's relationship with religion.
This image is of a drawing, painting, print, or other two-dimensional work of art, and the copyright for it is most likely owned by either the artist who produced the image, the person who commissioned the work, or their heirs. It is believed that the use of low-resolution images of works of art for critical commentary on
the work in question,
the artistic genre or technique of the work of art or
the school to which the artist belongs
qualifies as fair use under United States copyright law.
---