INHP Visitor Center, Philadelphia
---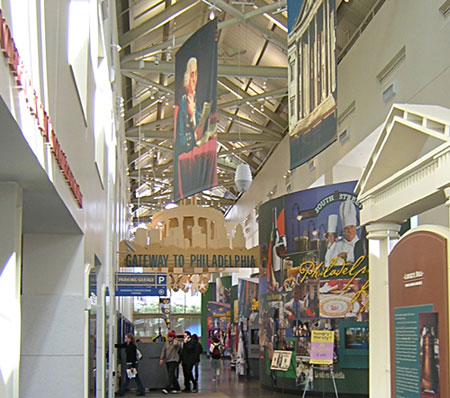 On the Tour Start Page, those sites marked "INHP" are part of the Independence National Historic Park. Those sites are administered by the INHP staff, part of the National Park Service. The Visitor Center, one block from Independence Hall, is a terrific place to begin your non-virtual tour of Historic Philadelphia. They can supply you with maps (in 13 languages) and lots of other tourist and visitor information.
You need to pick up tickets to visit Independence Hall here and arrange for special tours.
At many of the INHP sites you will find park rangers who will interpret these historic locations. Ask at the Visitor Center for specific sites and information prior to visiting them.
Visitor Center
Hours: Open daily 8:30am-5pm
Location: 6th & Market Streets. See Map of Historic Philadelphia
phone: 215-925-6101
---
---