Historic St. George's United Methodist Church
---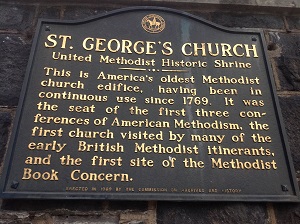 America's oldest Methodist church.
Called "The Cradle of American Methodism," St. George's is the world's oldest Methodist church in continuous service. In 1763, the church belonged to a German Reformed Congregation that became financially strapped. They ran out of funds to complete the structure and the church's trustees were put into debtor's prison. An impetuous and young speculator purchased the church for 700 pounds about five years later. This prodigal purchase incurred the wrath of the young man's father, who sold the church to the Methodists in 1769.
The site hosted the first three conferences on American Methodism in the mid 1770s and was an early publisher of books in Philadelphia. In keeping with William Penn's tradition of religious and racial toleration, black worsippers were welcomed at St. George's — in segregated services held at five in the morning. One Sabbath in 1787 the black parishoners were asked to use only a balcony as a prayer area, greatly straing tensions between races within the church. This rift prompted Richard Allen, the first licensed black Methodist preacher, to leave the church and found the Mother Bethel African Methodist Episcopal Church, while another black preacher, Absalom Jones, founded the African Protestant Episcopal Church.
---
Engineers working on the Ben Franklin Bridge were forced in court to change their design so as to allow the threatened church 14 feet of breathing room.
Tickets to a 1770 agape, or love feast, can be viewed in the Methodist Historical Museum.
Robert Morris, the primary financier of the American Revolution, prayed all night on the New Year's Eve of 1776, asking for guidance in securing money for the Continental Army.
Richard Allen, founder of the Mother Bethel African Methodist Episcopal Church, was the first black licensed to preach Methodism here at St. George's in 1784.
British forces occupying Philadelphia in 1777 used the church as a cavalry school as it still had a dirt floor and a door that opened onto the street.
---
Location: 235 North 4th St., between Race and Vine (Map)
Built: 1763
Architect:
Style:
Commissioned by: German Reform Congregation
Tourism information: Museum and tours. Open daily 10am-4pm. 215-925-7788
Facilities: A historical center and museum adjoin the church.
Official website: www.historicstgeorges.org
---