Polish American Cultural Center Museum
---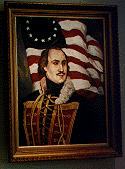 Thaddeus Kosciuszko, Casimir Pulaski (pictured here) and a host of Polish-American, Polish, and American heroes are celebrated in this modest and friendly museum.
The Polish American Cultural Center Museum celebrates the lives and accomplishments of distinguished people of Polish descent. Paintings of great figures in Polish history are displayed in the first-floor exhibit hall. Among those honored include musicians Frederic Chopin and Ignacy Jan Paderewski; scientists Nicholas Copernicus and Madame Curie (who was born in Poland); and modern heroes Pope John Paul II and Lech Walesa. Under the portraits of these notables are cases filled with letters, objects, and books pertinent to their lives.
Two Polish military men who sided with the Colonists of 1776 are of particular interest. Thaddeus Kosciuszko and Casimir Pulaski both fought with distinction in the Revolutionary effort. As Kosciuszko is discussed more thoroughly in the Kosciuszko House site, we will concentrate on Pulaski here.
PULASKI was born into Polish nobility in 1745. When he was 18 he joined with his father in fighting Russians and Prussians who were involved in controlling Polish affairs. Ultimately the Russians exiled Pulaski from Poland and he wound up in Paris in 1777. There, Benjamin Franklin recruited him to fight on behalf of the rebels. Pulaski's interest was twofold: he was impressed with the ideals of a new nation struggling to be free and desiring to exact revenge on England who supported the partition of Poland. Pulaski arrived in philadelphia late in 1777 and joined Washington's forces at Brandywine. His tactical skills were demonstrated at Brandywine. Although the Colonists lost the battle, Washington was so impressed that upon his recommendation Congress made Pulaski a Brigadier General in charge of Four Horse Brigades. After his commission, Pulaski went on to fight at Germantown with distinction in a losing effort.
In 1778, acting on Washington's suggestion Congress established a Cavalry and put Pulaski in charge of it. That is why Pulaski to this day is known as the "Father of the American Cavalry." In his role as head of the cavalry, pulaski trained men in cavalry technique. When funding for the war effort ran low, Pulaski used some of his own money to buy equipment.
Pulaski went on to successfully defend Little Egg Harbor in New Jersey and Minisink on the Delaware. Finally, in 1779 at the Battle of Savannah, Pulaski took over for the wounded Commander D'estang. Pulaski was wounded by a cannonball while on horseback and died two days later.
At the museum, another ongoing exhibition includes a pictoral display called "Poland at Arms," which details the Polish military experience of World War II. In the room's center there is a display of Polish folk art which includes elaborate Easter-egg decoration.
An exhibit dedicated to Pope John Paul II features a prominent, 36" bronze bust of the pontiff set in a stained-glass and marble display and is a tribute to the accomplishments and leadership of the first Polish Pope in the history of the Catholic Church.
The Cultural Center coordinates National "Polish American Heritage Month" celebration each October when special events are held at the Museum with guided tours and video presentations. The Culture Center also sponsors several events a year — seasonal and historic — including a Kosciuszko Day commemoration in February, the commemoration of Poland's Constitution of May 3, 1791 (the second oldest democratic Constitution in the world), and Philadelphia's annual Pulaski Day Parade in October.
---
Lech Walesa and George Bush have both visited the museum.
The building dates back to 1810 when an insurance company owned it.
Famous Poles celebrated here include Madame Curie, Copernicus, Chopin, Lech Walesa, and Pope John Paul II.
Pulaski and Kosciuszko, two very important commanders on the side of the Colonists, both came from Poland to help with the Revolutionary cause.
---
Location: 308 Walnut Street (between 3rd and 4th Streets) (Map)
Opened: 1987 on the site of an 1810 building housing an insurance company.
Tourism information: Free. Jan.-Apr. Mo-Fr 10am-4pm; May-Dec. Mo-sa 10am-4pm. 215-922-1700
Facilities: Small gift shop that sells Polish Easter eggs, books, aprons, etc.
Official website: polishamericancenter.org
---
Thank-you to Michael Blichasz, President, Polish American Cultural Center Museum Board of Directors for reviewing the information on this page. (July 2000)
---