Philadelphia History Museum
at the Atwater Kent
---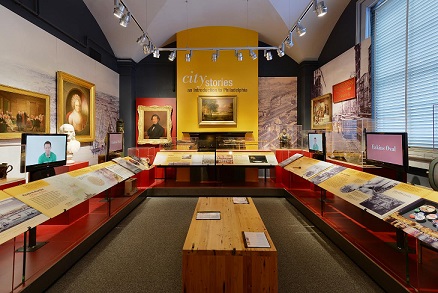 The original home of the Franklin Institute.
This was the original home of the world-famous Franklin Institute. The Franklin Institute was founded in this location by Samuel Merick, interested in promoting interaction between inventors and scientists, in the tradition of Benjamin Franklin. At this location were innovations in the weather bureau, standardization of machine parts, and promotion of the incandescent light bulb. The first architectural courses in America were given here, with teachers such as Thomas U. Walter and William Strickland. In 1933, the Franklin Institute vacated the building and it was almost demolished. In 1938, A. Atwater Kent, a pioneering radio manufacturer, established this museum of the history of the city.
Just steps from the Liberty Bell, the Philadelphia History Museum showcases an array of historical objects, art, and artifacts that tell the story of Philadelphia, from its founding in 1680 to present day. The museum features eight renovated galleries. On view are items ranging from George Washington's 1790s writing desk to Joe Frazier's 1970s boxing gloves. Visitors can explore the city by walking on the world's largest map of Philadelphia located in the museum's main gallery.
Note: The Museum is currently closed to the public. See their website for details
---
This was the site of the first weather bureau.
Here, the first architectural classes in America were taught.
This building was based on the design of the Greek Monument of Thrasyllus.
---
Location: 15 South 7th St.
Built: 1825
Architect: John Haviland
Tourism information: 215-685-4830
Hours: Tuesday-Saturday · 10:30 am - 4:30 pm
Admission: $10 adults | $8 seniors | $6 students and teens (13-18) | children 12 and under free
Museum Members and active military free | $20 for Family Pack
Official website: www.philadelphiahistory.org