National Museum of American Jewish History
---
Documenting the American Jewish Experience.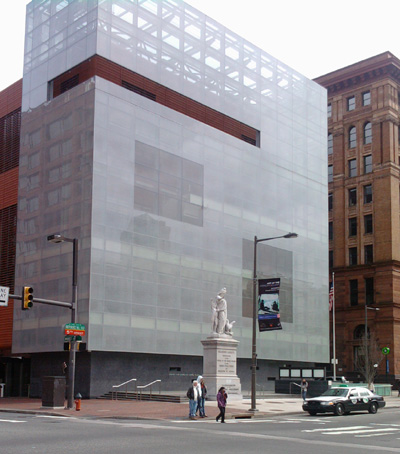 Opening its doors in November 2010, and situated on Philadelphia's Independence Mall, the National Museum of American Jewish History is the only museum in the nation dedicated exclusively to collecting, preserving, and interpreting artifacts pertaining to the American Jewish experience. The Museum's collection, numbering only two score objects in its first year, in 1976, when it shared space with Congregation Mikveh Israel several blocks from its current location, has grown to more than 10,000 items acquired through donation and purchase. Items in the collection include historic documents, ritual objects, artwork, clothing, and personal memorabilia.
The Museum documents the American Jewish experience. Exhibitions created by the Museum or loaned from other museums illuminate the American-Jewish experience so that visitors can assess their own experience anew. Visitors not only come from throughout the United States, but from around the world as well. Public programs to address issues raised by Museum exhibitions are held throughout the year.
---
The Museum's 100,000-square-foot, five-story building opened in November 2010.
Upwards of 1,000 Jews spend Christmas Day at the museum for story-telling, films, refreshments and other entertainment when otherwise they might be at home.
The museum offers a series of programs complementing each exhibition, including lectures, readings, storytelling, concerts and film series.
Because of the Sabbath, tickets will not be sold at the door on Saturdays. Please purchase Saturday tickets in advance.
---
Location: 101 South Independence Mall East, Philadelphia, PA 19106-2517
Opened: November 2010
Architect: James S. Polshek
Tourism information: Tuesday-Friday 10am-5pm; Saturday & Sunday 10am-5:30pm; please purchase tickets for Saturday visits in advance. Adults-$15; children (12 and under)-and active Military: free; youth (13-21) & senior (65+) $13. Tickets are cheaper if purchased online. 215-923-3811
Facilities: The museum gift shop offers a remarkable array of Judaica. Many of the items are singular pieces created by artisans and craftspeople. (Some of the pieces in the gift shop have been entered in juried art exhibitions held at the museum in prior years.) There is a multitude of magnificent mezzuzot, exquisite menorahs, stylish Seder plates, and an extraordinary choice of colorful ketubbot (Jewish marriage licenses). There is also an ample selection of books, cards, etc. Phone for the Museum Shop: 215-923-0262
Official website: www.nmajh.org