Martin Luther King's Philadelphia Connections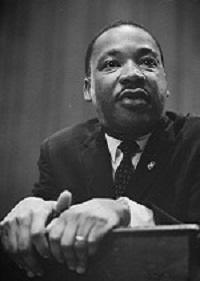 Researched by Dr. Diane Turner, Curator, Charles L. Blockson Collection at Temple University
The Philadelphia region was an important place in MLK's formative years from the age of 19 and also where he built important alliances and conducted civil rights activities. This timeline presents the arc of Philadelphia in King's life and shows connections between King's southern strategy and northern supporters, particularly in the African American community. This timeline was compiled for the Octavius V. Catto Education Project.
1948 - Martin Luther King entered Crozer Theological Seminary in Chester, Pennsylvania (just outside of Philadelphia).

Reverend J. Pius Barbour, Calvary Baptist, served as his mentor for 3 years during his studies.
King also audited courses at University of Pennsylvania.

In 1949, as a young seminarian, Dr. Martin Luther King, Jr. had about given up on the power of love in solving social problems. He explains in his autobiography, Stride Toward Freedom,

One Sunday afternoon, I traveled to Philadelphia to the Fellowship House, Broad and Girard to hear a sermon by Dr. Mordecai Johnson, president of Howard University. Dr. Johnson had just returned from a trip to India and spoke of the life and teachings of Mahatma Gandhi.

Dr. King bought Gandhi's books.
1949 - Met Rev. William H. Gray Jr. - The Gray and King's families developed a lasting relationship.
April 2, 1957 - Dr. King was the recipient of the National Fellowship Award of the Philadelphia Fellowship Commission at the Benjamin Franklin Hotel.
During June 1957 - Dr. King spoke at annual sessions of the American Baptist Convention at Convention Hall, Philadelphia, PA.
During June 1957 Dr. King spoke at the Atlantic City High School under the auspices of the Rev. Russell A Roberts, Shiloh Baptist Church.
December 1957 - The South Jersey Links held their ninth annual Christmas Cotillion which honored Dr. King.
December 1958 - Dr. King delivered a sermon at Bright Hope Baptist Church, 12th and Oxford Streets, where he told the audience, "Segregation is dead, but the time of the funeral hasn't been fixed!" Dr. King was described as a long-time friend and colleague of Reverend William H. Gray, Ph.D. Among those who shared the pulpit with Dr. King that day were AME Bishop R.R. Wright, Jr. and E. Washington Rhodes, publisher of the Philadelphia Tribune.
February 1, 1959 - Dr. King was guest of honor at the 18th observance of National Freedom Day at the Liberty Bell, Independence Hall, 6th and Chestnut Streets.

August 1959 Dr. King in Philadelphia with Rev. Ralph Abernathy at fundraising drive to help Southern leaders in their all-out effort to get Negroes registered and voting. A photograph from the time includes Father Thomas S. Logan, Calvary P. E. Church, 41st and Brown; Rev. Austin Jefferson, president of the Baptist Ministers' Conference of Philadelphia and Vicinity and Dr. William H. Gray Jr, Bright Hope Baptist Church
November 1959 - An inter-faith, interracial mass meeting of the Philadelphia Crusade for Citizenship Rally at the Baptist Temple Church, Broad and Berks was held to secure funds for King's Southern Christian Leadership Conference
1959 - Martin Luther King Jr. and his father visited Bright Hope Baptist Church.
September 11, 1960- Dr. King spoke at the Salem Baptist Church, Jenkintown, Rev. Dr. Robert J. Smith, pastor, at 4 PM, sponsored by the Men's Club.
January 30, 1961 - Dr. King spoke at 13th Annual Roosevelt Day Dinner at the Bellevue-Stratford.
On May 30, 1961 - it was announced that Dr. King was receiving honorary degrees from Lincoln University (outside Philadelphia), Pacific School of Religion, Berkeley, California and the University of Bridgeport, Conn.
June 6, 1961 - King is the guest speaker at Lincoln University
August 1961 - Dr. King spoke at Freedom Rally at Bright Hope Baptist Church, sponsored by Childs Memorial, Enon Tabernacle, Jones Memorial and Mount Sinai Tabernacle.
October 1961 - Dr. King spoke at the Academy of Music.
October 1961 - Dr. King had a four-day visit in Philadelphia. There is a photograph of him with Earl Lane, candidate for magistrate on the Democratic ticket, October 28, Philadelphia Tribune.

December 1, 1961 - Dr. King was admitted to Mercy-Douglass Hospital for a physical checkup. Dr. Harold Pierce, renown pioneering African American physician, was his doctor.
April 30, 962 - Dr. King, Jackie Robinson, Mahalia Jackson, James L. Farmer and Bishop George Baber received citations from the Baptist Minister' Conference of Philadelphia and Vicinity, first President's Award Night at Irvine Auditorium at the University of Pennsylvania.
May 1962 - Dr. King spoke at the American Baptist Convention in Convention Hall.

During July 1963, Congressman Robert N.C. Nix, Pennsylvania's first black congressman, sent a telegram to Dr. King pledging his support to the March on Washington.
1963 March on Washington the largest contingent of attendees came from Philadelphia. Samuel Evan organized 500 buses and reserved train (42,000 people).
On October 27, 1963 at 3 PM, Reverend Dr. Martin Luther King, Jr. spoke at the Bright Hope Baptist Church's ground breaking ceremonies for their new $650,000 church and youth center.
August 10, 1964, Reverend Dr. Martin Luther King Jr spoke at the 41st meeting of the Alpha Kappa Alpha Sorority in Irvine Auditorium at the University of Pennsylvania to 3,000 African American women urging increased Negro voter registrations and asserting that violence and war were obsolete. (Appeared in Philadelphia Inquirer, August 11, 1964, page 2.)
October 7, 1964 Dr. King selected as "Man of the Year," by Time Magazine, spoke at the "Sound of Freedom" program sponsored by Greater Philadelphia Citizen Committee at 8 PM in Convention Hall.
(Just a note: Dr. William H. Gray Jr. delivered the Men's Day sermon at the Ebenezer Baptist Church, Atlanta, GA in mid-October 1964)
Dr. King spoke at the Golden Slipper Square Club and received a donation of $1,000 plus $7,000 which had been given to Dr. King earlier by 60 Jewish communal leaders at the Locust Club luncheon, used to fight for Negro voting registration in Alabama and Mississippi.
Appeared in The Philadelphia Daily News, May 4, 1965
The story "Attorney Wm. T. Coleman Heads NAACP Legal Defense Fund" appears in Philadelphia Tribune, Feb. 6, 1965. Article mentioned that Coleman, who advised Thurgood Marshall on Brown v. Board, was the attorney representing Rev. MLK and his Southern Christian Leadership Conference, James Farmer and the Congress of Racial Equality, and John Lewis and the Student Non-Violent Coordinating committee.
1965 - MLK Guest speaker at Villanova University.
March 21-25, 1965 - Dr. King leads Selma to Montgomery March. C. Delores Tucker headed Philadelphia delegation to the Selma-Montgomery March.
In 1965, Dr. King and SCLC planned a major protest campaign in 6 northern cities (Chicago, Cleveland, New York, Newark, Philadelphia and Washington, D.C.)

Cecil B. Moore (center) with Martin Luther King during the struggle to desegregate Girard College (1965).

August 1965 - 2-day visit to Philadelphia for "Freedom Now" rally. Over 10,000 people heard King speak in West Philadelphia (at 40th and Lancaster). (Today a Mural Arts mural and a PA Historical Marker mark the site). Later King spoke to thousands at the Girard College wall and the Baptist Temple at Temple University on August 4, 1965.
October 26, 1967 brings the Southern Christian Leadership "Freedom Tour" to Philadelphia. The tour included speaking at St. Joseph's College (now University) at the invitation of the Student Government and Barratt Junior High. The main event was a celebrity studded fundraiser at the Spectrum featuring Harry Belafonte and Sidney Poitier, Aretha Franklin and Nipsey Russell. At all of the venues, King delivered a version of his "Other America" speech.

In February 1968, King developed laryngitis while in Philadelphia organizing an anti-Vietnam campaign. He was treated by Walter P. Lomax Jr, noted African American physician, businessman and philanthropist. This would be King's last visit before his assassination on April 4, 1968 in Memphis, Tennessee.