Cider Press at Bartram's Gardens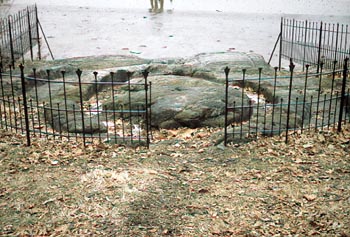 Remains of a stone cider press thought to have been carved by John Bartram.
Again, this seems to be a unique artifact not to be found elsewhere. John Bartram is renowned as America's foremost 18th century botanist, but he was also a marvelous stone carver. His house on the banks of the Schuylkill River dates to 1731 and sports interesting exterior stonework found on no other house of the era. Bartram carved into the bedrock next to the river an apple press that a visitor in 1787 termed "singular."
The press consists of a carved circular groove, about 25 feet in circumference where the apples were placed. In the center of the massive rock is a hole for a post or mast. A large stone wheel (or two wheels) would attach to the post and ride in the circular track crushing the apples. Either horse or manpower would turn the wheel. There is an escape hole in the bottom of the track that enables the juice to drain into a basin carved into the stone. Cider and a cider-brandy drink called applejack were favorite beverages in colonial Philadelphia.
While Bartram probably made cider for himself, he might also have charged others to use his cider press. America's oldest botanical garden is a 44-acre oasis of greenery along the dreary, industrial lower Schuylkill. It is located at 54th and Lindbergh Boulevard.