Biopond at the University of Pennsylvania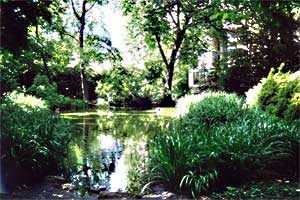 The Biopond at the University of Pennsylvania
This lush five-acre jewel is the very definition of the term "an urban oasis." Created in 1897 by botany Professor Dr. John M. MacFarland as a botanical garden, it is more like a forest glade than a garden. Scores of towering trees of every variety and lush undergrowth surround a pond that is alive with gold fish, turtles, frogs, mallards, even crayfish.
The surprising lushness and beauty of the woods attracts students, professors, romantic couples and neighbors to its many winding paths and secluded benches. It is so hidden that some students spend four years on campus and never discover the mini-forest in the middle of a bustling urban university. Most trees and flower beds are labelled. Tree species include magnolia, ginkgo, pines, red buckeye, Kentucky coffee trees, horse chestnuts, beeches, holly, English elms, the katsura tree of Japan and many more. The garden is as inviting in fall as in spring. All variety of song birds have been spotted: goldfinches, egrets, wood thrushes, indigo buntings and red tailed hawks.
The Biopond is operated by the school's department of plant science. Several greenhouses are located at the rear along with a small picnic grove. You will find the Biopond off Hamilton Walk near 38th Street in the rear of the Richards Medical Research Building, an important architectural landmark by Louis Kahn.