Becky Sell gives a tour of the Lazaretto historic site. Here she is standing in front of the main building.
Before the arrival of Europeans, the area now occupied by the Lazaretto was home to the Lenni Lenape, a native American tribe whose name, appropriately enough, means "original people." But in 1643, a new group of people — Swedes — settled in the region, forming the first European settlement in Pennsylvania.
In 1799, the Lazaretto Station was established in response to the Yellow Fever epidemic of 1793. The complex included a large main building, several outbuildings, and a burial ground. Much of this site still remains today. Philadelphia-bound ships stopped here for cargo to be inspected and passengers to be screened. Infested cargoes were fumigated or destroyed completely. Ill passengers were brought ashore to the main building or hospital of the Lazaretto for quarantine to await recovery or death.
By some estimates, as many as 1 out of 3 Americans today are descended from those whose first exposure to the New World was here.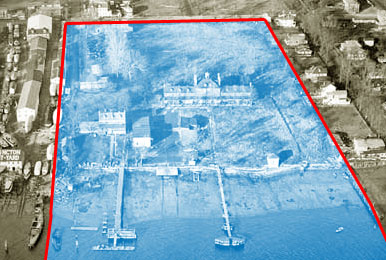 Philadelphia Free Library Print and Picture Department
Aerial view of the Lazaretto c 1929.
See full picture
In the early part of the 20th century, this location took on a new life as as the first seaplane base in Pennsylvania and one of the first in the United States, an early chapter in aviation history.
The flying school comprised a prestigious group, including Colonel Robert Edward Glendinning, George C. Thomas, Judge J. Willis Martin, A.J. Drexel Biddle, F.H. Maguire, Joseph N. Pew Jr., John B. Stetson Jr., Caleb Fox, Franklin Pepper, Samuel Eckert, Howard Pew, Stephen Noyes, Alexander Brown, Clark Thompson, and Mrs. Paul Denkla Mills.
Following months of controversy in November 2006 a settlement was reached between the township and historic groups over the protection of the historic resources and the construction of a new firehouse complex on the site.
For current information on recent and proposed preservation efforts and events related to the Lazaretto, check out the official Lazaretto Quarantine Station website
---