Republican Philadelphia
---
GOP Convention of 2000 in Philadelphia
The GOP held a convention in Philadelphia in 2000. IHA has not prepared a detailed analysis and presentation for this convention.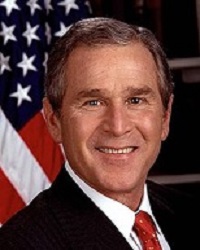 Presidential Nominee: George W. Bush of Texas
Vice Presidential Nominee: Richard B. Cheney of Wyoming
Bush and Cheney went on to win the White House in a very close and controversial election that came down to determining which party carried the state of Florida, which Bush had won by a slim margin. His opponent, former Vice-President Al Gore, had brought suit in Florida courts to initiate a recount. The case eventually went to the Supreme Court, which in a 5-4 decision, decided for the plaintiff [Bush], ruling that the original narrow victory by the GOP would stand. Bush would go on to comfortably win re-election four years later.