Historic Rittenhouse Town
206 Lincoln Drive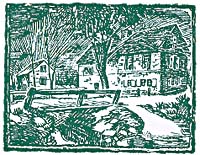 Historic Rittenhouse Town is located on 30 acres in Fairmount Park. Source: Historic Rittenhouse Town pamphlet (2).
Historic Rittenhouse Town is a site composed of several houses on thirty acres of Fairmount Park. It is the site of the Rittenhouse Homestead, the site of the first paper mill in America and the home of generations of Rittenhouses. William Rittenhouse (then Wilhelm Rittenhausen) arrived in 1690 from Holland and was the first of the name in Pennsylvania. William established the paper mill which was continued by generations of his family. Later other mills were established along the Wissahickon Creek, downstream from the Rittenhouse Mill on Monoshone Creek.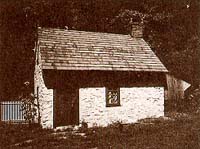 An early 18th century Bakehouse. Source: Rittenhouse Town Inc. pamphlet (3).
William Penn, the founder of Pennsylvania, was very proud of the Rittenhouse Mill because such facilities were new even in England. The Rittenhouse Mill was a center of papermaking in America for over one hundred years. A flood destroyed the mill in 1701, but a stronger mill was built in its place with Penn's assistance.
Paper was important during the Revolution as it was used to make cartridges and gun wadding. During the Battle of Germantown in 1777 the Pennsylvania militia used Rittenhouse paper in their hats to make their uniforms look more formal.
William's son Nicholas came with William from Holland. Nicholas was a businessman and minister at the Germantown Mennonite Meetinghouse. His father was the first minister at the Meetinghouse. William's great grandson David was born here.
David Rittenhouse (1732-96) was an astronomer-clockmaker. This amazing man of universal talents -- one of many in 18th century Philadelphia -- was a close friend of Thomas Jefferson and Benjamin Franklin. He was at various times a member of the General Assembly and the State Constitutional Convention, and president of the Council of Safety. His survey of the Maryland-Pennsylvania boundary in 1763-64, to settle a dispute between the Penns and Lord Baltimore, was so accurate it was accepted and followed by Charles Mason and Jeremiah Dixon when they surveyed the "line" for which they are still remembered. Professor of Astronomy at the University of Pennsylvania and inventor of the collimating telescope, he was also president of the American Philosophical Society and the first director of the United States Mint.
Sources:
1. Jenkins, Charles F. The Guide Book to Historic Germantown. Germantown Historical Society, 1973.
2. "Historic Rittenhouse Town: Visit Historic Rittenhouse Town." Historic Rittenhouse Town pamphlet.
3. "Rittenhouse Town in Philadelphia." Historic Rittenhouse Town Inc. pamphlet. Fairmount Park Commission.
---