Concord School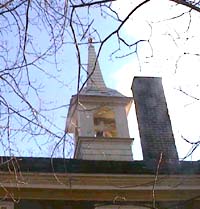 The steeple of the Concord Schoolhouse. The second floor was added in 1818 as a town meetingroom.
In the 1760s the residents of Germantown decided they needed a schoolhouse of their own. The site beside the Upper Burying Ground was chosen, construction began, and in the autumn of 1775, the Concord School was completed. In 1818 a second floor was added as a town meetingroom.
No one is positive why it is called Concord. Perhaps after the ship Concord which brought the first German immigrants to America. Or perhaps because its foundations were built at the time of the Shot Heard Around the World, the first shot of the Revolution fired in Concord Massachussets.
Back then, education was considered a privilege and unruly students were not allowed to attend. The school's trustees chose the first Schoolmaster, John Grimes. In 1797 tuition cost $1.50 for a quarter (three months). By 1815 it was $2.00 per quarter.
The Concord School is perfect example of the old one-room schoolhouse. It still contains historic books and furniture.
The Concord School is a perfect example of the old one-room schoolhouse. Its appearance today is very close to that of when it was still active. Night classes were sometimes held and students brought candles to study by. There was no bathroom, only the necessary in the back. The room was heated by the fireplace, later replaced by a potbelly stove. Students were given few luxuries. Yet the school still provided many children with an excellent education. Today the interior still contains original desks, books, even a stool and dunce cap.
Sources:
1. Photos by Greg Heller, Copyright © 2000 by the Independence Hall Association
2. Marion, John Francis. Bicentenial City: Walking Tours of Historic Philadelphia. Princeton: The Pyne Press, 1974.
3. Jenkins, Charles F. The Guide Book to Historic Germantown. Germantown Historical Society, 1973.
4. Concord School House/Upper Burying Ground pamphlet.
---