The Story of Charley Ross
529 East Washington Lane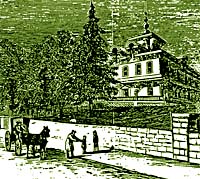 Two men coerced Charley and his brother Walter into their wagon, in front of the Ross family's mansion. Graphic from Frank Leslie's Illustrated Newspaper.
On July 1, 1874 two little boys were abducted in front of their family's mansion. It was the first kidnapping for ransom in the history of the United States, and would be the major event of its kind until the Lindbergh baby kidnapping.
The boys were named Charley and Walter Ross; they were 4 and 6 years old. The two men who kidnapped them had given the boys candy on previous occasions, but one day the men told the boys to climb into their buggy and promised to buy them firecrackers. The boys boarded and they drove off into the city. Charley would never be seen again.
As they drove farther away, Charley wanted to go home and began to cry. The men stopped in front of a store and gave Walter 25 cents. He entered the store and started choosing firecrackers, while the men drove away with Charley.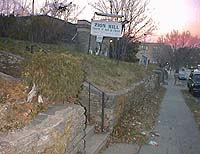 Today the Cliveden Presbyterian Church stands on the site of the kidnapping. The Ross mansion was torn down in 1926.
The boys' father, Christian K. Ross, thought the boys were playing in a neighbor's yard. But soon a neighbor told him that she saw the boys traveling in a buggy. The father began the search for his son that he would continue until his death in 1897. He didn't tell his wife, who was recovering from an illness in Atlantic City, but two days later, she found out when he began advertising in the newspapers for his sons' return. A stranger found Walter and returned him to his father.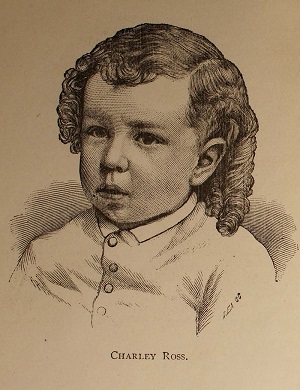 Two days after that, the father received a crude note, saying that Charley would be released for a sum of money. On July 7, came another note demanding $20,000 and instructing the boy's father how to go about paying the kidnappers. The father tried to follow the instructions as best he could but never contacted the kidnappers.
Later that year, police were investigating the kidnapping of a Vanderbilt child and found a ransom note in that case that matched closely the one for Charley Ross. They identified the handwriting as fugitive convict William Mosher's. Mosher was killed during a burglary in Brooklyn, but his partner Joseph Douglas identified Mosher as the kidnapper of Charley Ross. Douglas died insisting that only Mosher had known where Charley was being held. Douglas also said that Charley would be returned safely in a few days. He never was, and the father spent $60,000 in his futile search. Imposters came forward in the years afterward claiming to be the missing boy. Each was disproved. Charley's father died in 1897, his mother in 1912. Walter Ross died in 1943. The Ross mansion was torn down in 1926. The Cliveden Presbyterian Church now stands on the site of the kidnapping.
The First Ransom Note for the Return of Charley Ross
(Spellings as they appeared in the original)
July 3
Mr. Ross- be not uneasy you son charly bruster he al writ we as got him and no powers on earth can deliver out of our hand. You wil hav two pay us befor you git him from us. an pay us a big cent to. if you put the cops hunting for him yu is only defeeting yu own end. we is got him fitt so no living power can gits him from us a live. if any aproch is maid to his hidin place that is the signil for his instant anihilation. if yu regard his lif puts no one to search for him you money can fech him out alive an no other existin powers don't deceve yuself and think the detectives can git him from us for that is one imposebel
yu here from us in few day
Source: Tompkins, Reflections from the Known World.
Sources:
1. Photos by Greg Heller, Copyright © 2000 by the Independence Hall Association
2. Marion, John Francis. Bicentenial City: Walking Tours of Historic Philadelphia. Princeton: The Pyne Press, 1974.
3. Tompkins, Ronald. Reflections from the Known World: Essays on Growing Up in Germantown. Printed 1993.
---