John Wister
Iron Master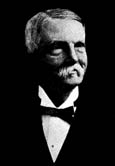 Graphic from
The National Cyclopaedia of American Biography
Wister was an outdoorsman, fisherman, expert ice skater, and the greatest ironmaster in America. During the Civil War Wister was appointed by the state of Pennsylvania to represent the Federal Government to control the gaps in the mountains to the North of Gettysburg and Harrisburg. Wister protected the iron works which supplied ammunition to Union troops. During the heated period of the Battle of Gettysburg, no one could pass from one section of the state to the other without an official pass bearing Wister's signature.
He was born on July 15, 1829 in Germantown. His parents were William and Sarah Logan Wister. He was educated in the private school run by Bronson Alcott (father of Louisa May Alcott). He finished his schooling at the Germantown Academy. At age 14 he became an apprentice iron worker with Fisher & Morgan at Duncannon, PA. The company later disolved and was operated by Duncannon Iron Co. Wister, by now a skilled iron worker himself, moved up the ranks in the company and eventually became president. He stayed with the company until his death at Belfield (which is still standing). He also founded or held positions of power in several coal mining companies, founded and was president of the Duncannon National Bank, was vice president of the Perry County railroad, and organized and was president of the Trout Run Water Co.
Vernon, his Germantown mansion, was purchased by his ancestor, also named John Wister, from James Matthews in 1812.He married Sarah Tyler in 1864 and with her had four children. He died in Germantown on June 4, 1900.
Sources:
1. "Wister John." The National Encyclopaedia of American Biography. Volume XXXIV. New York: James T. White & Company, 1948.