Pine Place Site
5425 Germantown Avenue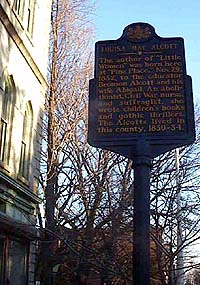 A historic marker stands on the site of Alcott's birthplace. Here is the text:
Louisa May Alcott
The author of "Little Women" was born at Pine Place" here, Nov. 29, 1832, to educator Bronson Alcott & his wife Abigail. A Civil War nurse & suffragist, she wrote books for children & numerous gothic thrillers. The Alcotts lived in Philadelphia.
Most people rightly associate Louisa May Alcott, the author of Little Women, with New England, her spiritual home. However, few realize that she was born at Pine Place, 5425 Germantown Avenue, now the site of the Cunningham Piano Company. Amos Bronson Alcott (1799-1888) was teaching at a Boston school when an invitation came in December, 1830, to teach in Germantown. It came about through the efforts of Reuben Haines, the owner of Wyck.
Alcott and his bride, the former Abigail May, opened Alcott's School, and Mrs. Alcott wrote her father, "the grounds and the gardens standing back and including an acre or more all beautifully laid out." Anna, their eldest child, the Meg of Little Women, was born in a nearby boarding house on March 19, 1831, and on November 29, 1832, Jo herself, in the form of Louisa May was born — in this house on her father's thirty-third birthday. It is interesting to note that she survived her father by only two days. When the school failed after Haines' death, the Alcotts returned to Boston in 1834, and in 1868-69 Louisa May published her now famous novel, Little Women, which was to enshrine her forever in Germantown annals. The family moved from Germantown when Louisa Alcott was about two years old.
Letter to Colonel May, Germantown, November 29, 1832
DEAR SIR: — It is with great pleasure that I announce to you the birth of a second daughter. She was born at half-past 12 this morning, on my birthday (33) and is a very fine healthful child, and has a fine foundation for health and energy of character. Abba, inclines to have her called Louisa May, a name to her full of every association connected with amiable benevolence and exalted worth. I hope its present possesor may rise to equal attainment and deserve a place in the estimation of Society.
Yours,
A. BRONSON ALCOTT.
Sources:
1. Photo by Greg Heller, Copyright © 2000 by the Independence Hall Association
2. Jenkins, Charles F. The Guide Book to Historic Germantown. Germantown Historical Society, 1973.
---