Historic Valley Forge
Molly Pitcher
Q.Can you tell me any thing about Molly Pitcher and if she had any responsibilities at Valley Forge or did she just follow her husband there for support. It is hard to find any information on Molly before the Battle of Monmouth.
Robin Mcbroom, Lancaster, Ohio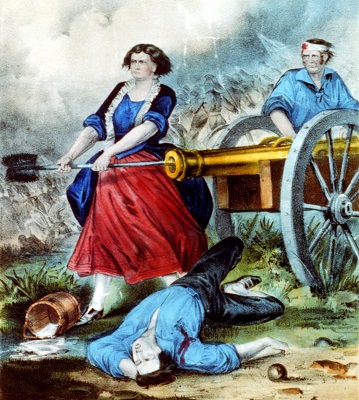 A. "Molly Pitcher" was not a single historical figure, but a composite folk hero inspired by the actions of different people, most of them women who carried water to troops during the revolution. Women filling this role on the battlefield may have generally been referred to by this nickname. Two real women in particular have been associated with the legend of Molly Pitcher
Born in 1754, Mary Ludwig Hays McCauley was the daughter of a New Jersey dairy farmer. At the age of 13, she went to work as a domestic/servant and married a barber named William Hays. When the Revolutionary War began, William enlisted and became a gunner in the Pennsylvania Artillery. Mary eventually joined her husband as a campfollower during the Philadelphia Campaign (1777-1778) in New Jersey, eventually wintering with the Army at Valley Forge.
Legend says that Mary was carrying water for the troops at the Battle of Monmouth in June, 1778, but when her husband the artilleryman was wounded, she abandoned her water jugs and took up loading the artillary in his place. Joseph Plumb Martin, a soldier in the Continental Army, was present at the battle. His memoirs, discovered in the 1950s, have become an important primary source for historians interested in the experiences of ordinary soldiers during the revolution. Plumb relates an incident during the battle:
"A woman whose husband belonged to the artillery and who was then attached to a piece in the engagement, attended with her husband at the piece the whole time. While in the act of reaching a cartridge and having one of her feet as far before the other as she could stemp, a cannon shot from the enemey passed directly between her legs without doing any other damage than carrying away all the lower part of her petticoat. Looking at it with apparent unconcern, she observed that it was lucky it did not pass a little higher, for in that case it might have carried away something else, and continued her occupation."
Washington is said to have observed her heroics on the battlefield and issued her a commendation, and Mary was allegedly called by the nickname "Sergeant Molly" for the rest of her life. Where history ends and folklore begins is a matter of continued debate, however. We have no record of this commendation from Washington. Martin's single account is the only real evidence available concerning Hays' contributions at Monmouth.
At the close of the war, William and Mary Hays returned to Pennsylvania. They settled in Carlisle where Mary went back to work as a domestic as well as a "charwoman" in the State House in Carlisle. William died in 1786, and in 1793, Mary married John McCauley, who had also served in the war. She was awarded a pension in 1822 by the Pennsylvania State Legislature and it wasn't until the anniversary of the War in 1876 that a marker noting her exemplary service was placed on her grave. She died on January 22, 1832.
Another "Molly Pitcher" was Margaret Corbin (b. 1751) — who is said to have taken up a cannon when her husband was killed at Fort Washington on Manhattan Island, New York in 1776. She was seriously wounded there herself when her arm was almost severed and her breast was lacerated by grapeshot. She lived until 1800 after receiving charity payments from the Invalid Regiment and later a small pension from Congress. She was allegedly known throughtout her community as a bad-tempered, hard-drinking eccentric by the nickname of "Captain Molly."
Corbin and Hays were both real women who performed bravely during the war. "Molly Pitcher," in contrast, is a legend, a symbol of courage in the face of adversity.
---