Liberty Bell Trivia
The Bell was sent from England on the ship Hibernia, captained by William Child.

Note: It is in error, though commonly believed that it came on the Myrtilla. Dennis R. Reidenbach, Acting Superintendent Independence National Historical Park, wrote, "According to newspaper accounts of port activity, the Myrtilla docked in Philadelphia at the end of September 1752. However, Pennsylvania's Speaker of the Assembly, Isaac Norris (the man who ordered and oversaw the installation of the bell in the State House), wrote on Sept. 1 that the bell had recently arrived. The only ship from England that docked in Philadelphia during the month of August that year was the Hibernia, captained by William Child. The Hibernia was of modest size, transporting dry goods and passengers regularly between England, the colonies and Ireland. No known records identify the Hibernia's owner either before or at the time it transported the bell." (Philadelphia Inquirer 9/22/02)

The bell cracked the first time it was rung.
The bell weighed 2080 pounds when it was cast.
The strike note of the Bell is E-flat
[Listen to the Normandy Liberty Bell]
On June 6, 1944, when Allied forces landed in France, the sound of the bell was broadcast to all parts of the country
There are three known recordings of the Bell. Two were made in the 1940s for radio stations to play; the third is currently owned by Columbia Records.
About 1,500,000 people annually make a pilgrimage to the Bell.
The Liberty Bell Center was designed by the same firm (Bohlin, Cywinski, Jackson) that designed the Apple Store glass cube in Manhattan.
On the bell, "Pennsylvania" is spelled "Pensylvania"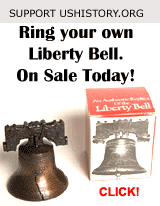 ---
The Christmas-time favorite, "It's a Wonderful Life" was produced by the short-lived Liberty Films company. They used a Liberty Bell, without a crack, as their symbol.




When the Liberty Bell first cracked, it was given to Pass & Stow to recast. A replacement bell was ordered from Whitechapel Foundry in England. The Pass & Stow bell is the Liberty Bell. Read about this "Sister Bell" here: Old St. Augustine's Church.
As an April Fools (1996) joke, Taco Bell ran a full-page ad in various newspapers, including The New York Times, claiming to have bought the Liberty Bell.