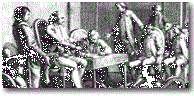 Signers of the Declaration of Independence
Short biographies on each of the 56 Declaration signers
---
Edward Rutledge
1749-1800
Delegate to the Continental Congress from South Carolina, 1774-76, 1779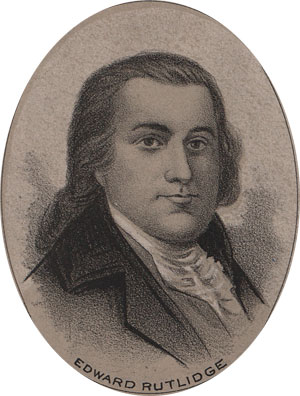 by Ole Erekson, Engraver, c1876, Library of Congress
| | |
| --- | --- |
| Born: | November 23, 1749 |
| Birthplace: | Charleston, S.C. |
| Education: | Graduate of Oxford, Studied at Middle Temple (London), Member of the English Bar (Lawyer) |
| Work: | State Legislator, Representative to the Continental Congress, 1774-76, 1779; Captain, Charleston Battalion of Artillery, 1776-1779; State legislator, 1782-1796; College of Electors, 1788, 1792, 1796; Elected Governor for South Carolina, 1798. |
| Died: | January 23, 1800 |
Born to an aristocratic Family in South Carolina, Edward Rutledge was perhaps destined to a life of Public service. He was educated in law at Oxford and studied for and was admitted to the English Bar. He and his brother John were both engaged in the law, and both attended the congress. They supported each other unabashedly, both on the floor and in committee. Edward attended Congress at the remarkable age of 27, and was no doubt pretty excited to find himself in the company of the most eminent men of the colonies.
He took leave of Congress in November of 1776 to join the defense of his colony. He was a member of the Charleston Battalion of Artillery, engaged in several important battles, and attained the rank of Captain. The colonial legislature sent him back to Congress in 1779 to fill a vacancy. He took his leave again in 1780 when the British conducted a third invasion of South Carolina. He resumed his post as Captain in the defense of Charleston, was captured and held prisoner until July of 1781.
In 1782 he returned to the legislature of his native state, where he served until 1796. He was a very active member, intent on the prosecution of British Loyalists. At times he served on as many nineteen committees. He also served as an elector, in 1788, 1792, and in 1796 when, despite his avowed allegiance to the Federalist party, he voted for Thomas Jefferson. He was then elected to the state Senate, twice, and in 1789 was elected Governor. This would be his last office. His health declining, he was barely able to complete his term as Governor. He died in January of 1800 at the age of 50.