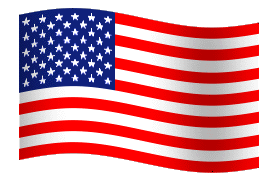 Betsy Ross and the American Flag
The Betsy Ross House
The House's History
Ross never owned this house, but rented here between the years of 1773 and 1786. The house was built about 1740 and consists of 3-1/2 floors and six rooms plus an attic. Betsy and her husband, John Ross, lived here and ran their upholstery business out of the house as well. [For a detailed discussion, see the Was This Her House? page.]
Other businesses occupied the House, after Betsy moved from here in 1786, until it was acquired by the Betsy Ross Memorial Association. Starting in 1898, two million Americans donated dimes to the Association to help convert the house from a time-worn building into a national shrine. In the 1920s, as the neighborhood declined, serious consideration was given to moving the structure to Fairmount Park (the largest urban park in the U.S.) due to a concern for its safety because of the severe risk of fire posed by two adjacent factories.
Sightseers today find that the factories are gone. In 1937, the building was donated to the city of Philadelphia and restored with the monetary assistance of radio-manufacturing millionaire Atwater Kent.
Salute the dedication of House staff and the generosity of donors, that makes it possible for over 250,000 visitors annually to be able to tour Betsy's house in person. In addition, over a half million visitors take this virtual tour each year!
Just the Facts
Starting in 1898, two million Americans donated dimes to help convert Betsy's house from a state of disrepair into a National Shrine and each donor received a certificate and a copy of the Weisgerber painting as a "thank you." (See the last "Frequently Asked Question" on the homepage for more information.)
Today, in Philadelphia, only the Liberty Bell and Independence Hall draw more visitors than the home of the adored flagmaker. Annually, over a quarter of a million guests visit the Betsy Ross House.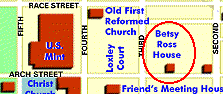 Location: 239 Arch Street (between Second and Third Streets). Click for Google Maps
Built: circa 1740
Style: Georgian
Hours: 10am-5pm daily: March 1 - November 30.
December 1 - February 28, 2017 Tuesdays - Sundays, 10 am - 5 pm, closed at 3 pm on December 24
(Open December 28, Martin Luther King, Jr. Day, Presidents' Day)
Telephone: 215.629.5801
Admission Fee: Adults $8, Children/Students/Seniors/Military $7.
(This information is subject to change. Review the official Betsy Ross house website for current pricing, hours, and events.)
Gift Shop: There is a gift shop selling Philadelphiana including postcards, jewelry, clothing, dolls, and various collectibles. The gift shop proudly offers for sale merchandise made only in the United States of America. Refreshments and rest room facilities are available.
How to Get Here
From I-95 North/South: Follow signs for Central Philadelphia. Then follow signs to Independence Mall. Turn left at light at end of exit ramp onto Second Street. Turn right on Arch Street. The Betsy Ross House is on the right at 239 Arch Street.


From the West (I-76 East or I-676 East): follow signs to Independence Hall. Exit at Ben Franklin Bridge (immediately after 8th Street exit). As you exit, keep to the right, following signs to Independence Hall (not Ben Franklin Bridge). Turn right at the light (and stay right). Proceed to the first stop light and turn left on Race Street. Turn right on Second Street. Turn right at Arch Street. The Betsy Ross House is on the right at 239 Arch Street.


Parking
Street metered parking is possible, but hard to find. The parking authority is enthusiastic, so don't try to park illegally. There are parking garages nearby.
---
---