South Street
---
Note: While the vibe of South Street remains the eclectic blend of weirdness it always has, specific businesses and enterprises on Philly's strangest street change constantly. Some of the information in this section may be out-of-date. Rest assured that if a business mentioned below isn't there anymore, something equally interesting is probably there in its place.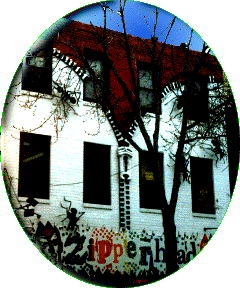 "Where do all the hippies meet? South Street, South Street!"
("South Street" by the Orlons)
South Street is Philadelphia's hip strip and trendy melting pot. Here you'll find a many-splendored promenade alive with way-kewl boutiques, eccentric shops, singular restaurants, bars, night clubs and cafes — and where the people-watching is as fun as the window-shopping. Aging hippies, the fashionably unfashionable, tongue-piercers, spike-haired skateboarders, and even nuclear families commingle comfortably on this eclectic and electric swath. If you feel a bit self-conscious because you're old enough to remember the above lyric from the 1963 hit rock-'n'-roll tune, just relax — like the song says, "it's the hippest street in town."
Zipperhead, Erogenous Zone, Condom Nation, and Trash and Vaudeville are but some of the titillating stores in this bizarre bazaar. At Zipperhead, those looking for biker leather, piercing accessories, or your black-to-basics wardrobe will find the latest rage of the age. And even after a few years on the street, condom stores are sure to draw rubberneckers to their window displays.
Yet, part of South Street's attraction remains the living dinosaurs from an earlier commercial era. One such is Harry Horn — "Electric Supplies and Lighting Fixtures." Plugs, fuses, meter boxes, circuit breakers dating to the Taft administration are proudly displayed in Harry's front window. Aaron's King of Mattresses, Bridals designed by Zelman, and Krass Brothers clothing store with its autographed photo of Frank Sinatra in the window add a retro touch to the vista.
Chain stores and restaurants arrived in full force in the '80s, but have done little to homogenize this center of counterculture. Though one now finds McDonald's, the Gap, Starbucks, Pizzeria Uno, and Tower Records, South Street retains its chic boutique mystique.
On weekend nights in particular a party atmosphere prevails. Mardi Gras is in the air as Jersey boys with slicked back hair stare at the South Philly girls with way up-in-the-air hair. Longhairs (classical music lovers) roam the Tower Classical music annex, longhairs (those with long hair) party in grizzled night clubs like J.C. Dobbs.
Certain blocks stand out. A drunken sailor's heaven is the best way to describe Fourth Street between South and Bainbridge. Here, for the time being, are four tattoo parlors, a couple of bars, and a punk-oriented-record-and-clothes store. Interested in getting your navel, nipple, or tongue pierced? You've come to the right place. Sound a bit off-putting? Then perhaps you'd like Sweettooth which festively decorates the corner at 4th and Bainbridge. This happy juxtaposition, candy, nuts, and dried fruit, and punk, tattoos and tarts, best sum up South Street's lure.
Cafes are in vogue right now as manifested by the bulk of beaneries on the street. Enjoy the coffee scene at Supreme Bean, Santa Maria's, Coffee World, Starbucks or whatever java joint will open between now and our next Internet page update.
Though the street has many fine restaurants, three of historic importance stand out. The Knave of Hearts was a pioneer in Philadelphia's restaurant revival as well as the 1960s revival of South Street itself. Loyal locals have long enjoyed the Knave's whimsical strawberry soup. famous 4th Street Deli has been operated by the same family for three generations. It's also the best deli in town — lox, stock, and bagel. A reminder of the days when the area was a thriving Jewish community and a fabric center, Famous is one establishment that has earned its name. Finally, Jim's Steaks vies for the honor of Philly's best cheese steak. Sandwich makers with bulging biceps pile tremendous mounds of onions and thinly sliced steak on a spattering grill. Take your steak upstairs and enjoy the show on the street below.
Most of the action on South Street takes place between Front and Ninth Streets. However, a renaissance is occurring on the western end of the street as well. Galleries, music stores, and restaurants can now be found between 12th and 16th on South. Of note are two stores catering to the voodoo community where spells, potions, and powders can be purchased.
Bob and Barbara's bar at 15th and South is a throwback to the smoky bebop days, with cracked red bar stools and a bar sanded smooth by decades of beer bottles. Jazz-lovers will bow before the jukebox — a shrine to Basie, Parker, and Lady Day. The house special, a can of Pabst and a shot of bourbon for $3.00 will warm you on even the coldest winter night. At Broad and South a historic marker honors Lady Day — Billie Holiday — a reminder of the time when South Street was Philly's jazz central.
---
Zipperhead, a one-shop stop for everything from leather to nose rings, to handcuffs, was immortalized in a 1980s song by the Dead Milkmen. Once a fixture of South Street, Zipperhead is, alas, no longer in existence.
"South Street" rose to #3 on the Billboard charts in 1963 for the Orlons, a Philadelphia quartet, who also sang "Wah-Watusi," "Don't Hang Up," and "Shimmy Shimmy."
Walk to the east end of South Street, cross the bridge and you are at Penn's Landing.
---
Location: East-west street, five blocks south of Independence Hall. The most developed section runs 9 blocks, from the river west. (Map)
Tourism information: Lots of bars, restaurants and shops for jewelry & crafts, antiquities & gifts.