Elfreth's Alley & Mantua Maker's Museum House
---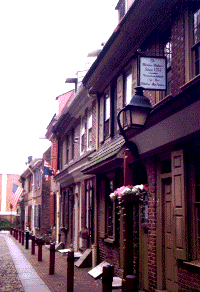 "Since 1702 ... Our Nation's Oldest Residential Street"
The alley is named after Jeremiah Elfreth, a blacksmith and land speculator, who built and rented out many of the alley's homes. Often the homes were rented to fellow artisans. Philadelphia of the mid-18th century was in the midst of an economic boom. Artisans and small manufacturers were needed to supply goods and services to a growing population. Those considered to be artisans included cabinetmakers, silversmiths, pewterers, glass blowers, and wagon builders. As the dwellings in center city were owned by prosperous merchants and land speculators, the artisan middle class congregated in enclaves to the north by the river. They prospered with the growth of the city. The alley was not solely composed of artisans, though. Teachers, merchants, and clergy dwelled in Elfreth's Alley, many times conducting business out of their homes.
The tightness of the alley and the narrowness of the homes give the street almost a miniature, dollhouse character. If one were to remove the wall facing the street at Jeremiah Elfreth's house, you would see but one room on each story with a narrow and winding staircase connecting the floors. This type of house is called a Trinity, and they abound in Philadelphia. The locals also called them Father, Son, and Holy Ghost houses.
Try not to miss walking in Bladen's Court located midway down the street, which is basically an alley within an alley that leads into a charming circular courtyard.

Considered by many to be the oldest continuously inhabited street in the U.S.

You can see mirrors (called "busybodies") projecting from the second floor windows of many of the houses. These allowed those on second floors the ability to see who was knocking on their front doors.

Oldest house dates back to the 1720s.

The Delaware River flowed next to the alley in the 18th century.

Location:
Elfreth's Alley off Second Street, between Arch and Race Streets
(Map)

Built:
Houses built between 1720 and the early 1800s.

Architect:
unknown

Style:
Georgian and "Trinity"

Commissioned by:
Many houses commissioned by Jeremiah Elfreth

Tourism information:
Guided tours of the Museum, House #126, are offered throughout the day, tickets may be purchased in House #124. Tours occur every 20 minutes, beginning on the hour, and last approximately 15 minutes. Mar-Oct Mon-Sat 10a-5p, Sun noon-5p; Nov-Feb Thu-Sat 10a-5p, Sun noon-5p; May-Aug the Alley is alive with historic characters, music and special programming. On July 4, FREE as part of
Welcome America
. Visit House #124, the Chairmaker's Home and Gift Shop, for FREE and to purchase tickets for a tour of the Museum House #126. Adults $2.00, Children (ages 6-18) $1.00, Children under age 6, school groups, and scout groups FREE. Many of the Alley's residents open their homes for tours for Special Events. Consult their website (below) for dates. 215-574-0560

Facilities:
Gift shop.

Official website
:
www.elfrethsalley.org