Betsy Ross House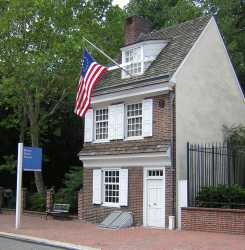 One of Philadelphia's three most visited historic sites.
Betsy Ross now has her own entire Website on ushistory.org. Visit The Betsy Ross Homepage.
Read the story of Betsy sewing the flag. Read about her life. Find out how to cut a 5-pointed star in one snip. Read CyberThoughts about Betsy Ross and the flag. Take a "virtual" visit to her house on Arch Street. And much more!

Location:
239 Arch St. (between 2nd and 3rd in Old City)
(Map)

Built:
1740

Tourism information:
215-686-1252, Apr-Oct: 10am-5pm daily; Nov-March: closed Mondays; Jan & Feb: closed Mondays & Tuesdays. Suggested Admission: $3 adults/seniors; $2 children 12 and under/students. Audio Tour: $5 (includes admission)

Facilities:
Tour (self-guided), audio tour available ($5 including admission), gift shop, and restrooms.

Permission to Use | Contact Us
Copyright ©1995-2013 by ushistory.org, owned by the Independence Hall Association