American Philosophical Society Library & Museum
---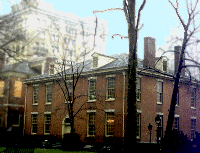 From silk cultivation to quantum physics. From Jefferson to Albert Einstein.
The Constitution and the Declaration of Independence are two documents created by philosphical minded people — both practical and visionary. It's not surprising that Philadelphia was where these documents were written — it had long fostered philosophic probing. In the Colonial Era, Philadelphia was home to several philosophic organizations but the one that emerged as the most influential was The American Philosophical Society.
The American Philosophical Society was founded as a home for thinkers about nature, machines, industry and governance and is today the oldest surviving learned organization in the country. It was founded in 1743, the outgrowth of an idea fostered by Benjamin Franklin. Its home, the Philosophical Hall, has anchored the west side of Independence Square since 1789.
The name "The American Philosophical Society" is derived from the concept of "natural philosophy" which was the 18th century name for the study of nature and has nothing to do with "philosophy" (political or otherwise) as we understand it today. The early members of APS were what we would call "scientists" and "technologists." If it had been founded 150 years later it would have been called the "American Scientific Society."
Franklin's original 1743 proposal for the Society sought "the promoting of Useful Knowledge, especially as it respects the Agriculture, Manufacturies, and Natural History of North America." This idea initially attracted business-owners and merchant-scientists, but it took the added membership of 18 members of the Proprietary Party (supporters of the Penn family), and later the entire membership of the American Society — another group that was an outgrowth of Franklin's proposal — for the Society to establish its preemimance in Philadelphia. Their discussions were centered on using new scientific thinking in a practical, mercantile world.
Before the Hall was built, the Society met at various sites, including Carpenters' Hall and the Christ Church School. Building their own home proved no easy task. They and the directors of the Library Company (next site on your tour) both sought to buy the same plots to build on. The plot on Fifth Street where the Hall is located today was feuded over until the Library Company backed out of their petition. Franklin pledged 100 pounds and Samuel Vaughan (a successful Jamaican trader) pledged 50 pounds, to get the building fund off the ground. It took a few years and more assistance from Mr. Franklin for the needed funds to be raised.
What type of activities occurred at the Hall? A July 22, 1843, diary entry of wealthy Philadelphia merchant Thomas Cope allows us a peek. "Last night I met the Philosophical Society. It was election night for new members. Among others, Julien of Paris was in nomination. Doc. Chapman raised objections. Julien had been private secy. to Robespierre & guilty, like master, of the horrid barbarities, among other things, of having seduced a girl of 15 & getting tired of her, he caused her accusation before the revolutionary tribunal and had her guillotined..." Julien, however, was found to be a man of unblemished reputation and ultimately elected to membership.
Another incident came about when Charles Willson Peale, artist and father of sons Raphaelle, Rembrandt, Rubens, and Titian, became hard-pressed in finding an aptly artistic name for his fifth son. His choices displeased Peale's wife (though it's hard to imagine what could be so outrageous after the above quartet) and the naming matter was left to the society to adjudicate. Logically they chose — Franklin.
More typical 19th century meetings were concerned with astronomical research, silk cultivation, and canal development. In our own century, research into computers, quantum physics, and medicine have ruled the agendas. Henry Smythe's 1945 report on heavy water, needed for the atomic bomb, is on permanent display at the Society.
Other permanent holdings of the Society include the original of William Penn's 1701 Charter of Privileges which extended the extraordinary right of creating their own laws to the populace. An armchair used by Thomas Jefferson during his writing of the Declaration of Independence can be found here. The Society also functions as an art museum in miniature. There's an original Gilbert Stuart portrait of George Washington. Thomas Sully portraits of the 1776 titans Thomas Jefferson and Benjamin Rush adorn the walls as well. Sully, esteemed by some as the finest portraitist of his day, rented rooms in the Hall and charged the public 25 cents to see his work.
Another famous artist and tenant of the Society was the aforementioned Charles Willson Peale, who for a time housed his singular museum in the Hall. In addition to being the most celebrated artist of his day, Peale prefigured future impresarios such as P.T. Barnum. Peale was an educator, inventor, and naturalist, in addition to being an artist. On one expedition to upstate New York, Peale unearthed the skeleton of a mastodon which he shipped back to Philadelphia. Overflow crowds paid 50 cents extra to view the phenomenon of the largest extinct North American mammal on display. Peale called his mastodon a "mammoth." Mammothmania gripped the country. A Philly baker sold "mammoth bread." Residents of Cheshire, Massachusetts sent Bay State native and President, John Adams, a "mammoth" cheese which weighed over half a ton.
Other less colorful tenants included city and Federal Courts as well as the University of Pennsylvania. A notable episode of the University's tenure was that the students, by special agreement with the Assembly, were called to class by the Liberty Bell.
It was architecturally that the Society made one of its few missteps. In 1890, needing more space to house a burgeoning library, a third floor was added. The floor might be compared to a bad hat on a person who should never be wearing one in the first place. Discordant with its surroundings, not to mention the two floors under it, the floor was eventually removed in 1949 — at about five times the cost that it took to build it. By this time many of the Society's books were being housed in the Drexel Building across the street (which you'll read about at the Library Hall, next stop).

Founded in 1743 by Benjamin Franklin to "promote useful knowledge."

Oldest learned society in the U.S.

Members have included Benjamin Franklin, Charles Darwin, Madame Curie, Albert Einstein, John James Audubon, over a dozen Presidents, and over 200 Nobel prize winners.

Current members include Toni Morrison, Yo-Yo Ma, I.M. Pei, Sandra Day O'Conner, and Nelson Mandela.

Tenants included University of Pennsylvania whose students were called to class by the ringing of the
Liberty Bell
.

The American Philosophical Society is home to a library of more than 7 million manuscripts, 250,000 volumes and bound periodicals and thousands of maps and prints.

Society still meets on a regular basis.

Location:
104 South 5th Street, behind Old City Hall
(Map)

Built:
1789

Motto:
Nullo Discrimine (We are Open to All).

Architect:
Building supervised by Samuel Vaughan; remodeled 1949 Sydney Martin

Style:
Federal

Commissioned by:
Philosophical Society on suggestion of Vaughan, Hopkinson, et al.

Tourism information:
Thu–Sun 10am–4pm (to Labor Day); Fri-Sun 10am–4pm (Labor Day–December 31); free admission; changing exhibitions; 215-440-3400; fax 215-440-3423

Facilities:
Outdoor seating

Official website
:
www.amphilsoc.org