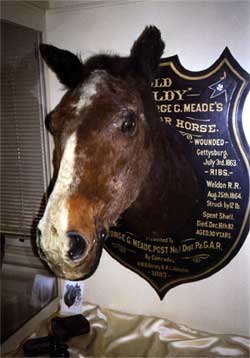 Old Baldy
No discussion of beloved Philadelphia animals (now stuffed) would be complete without inclusion of General George G. Meade's favorite mount. Meade was Philadelphia's greatest Civil War hero. As the commander of northern forces at the Battle of Gettysburg, he may have saved the Union. Meade's favorite horse was the unperturbable Baldy. It was important to have a mount who was relaxed and reliable during the noise of battle. Baldy was absolutely cool in combat and apparently indestructable.
Research shows that Baldy was wounded 14 times but always made a complete recovery and heroically returned to the battlefield. He saw action at the First and Second Battles of Bull Run, Antietam, Fredericksburg, Chancellorsville, Weldon Railroad and Gettysburg, where he took a shot in the ribs that missed Meade by an inch. Meade often rode Baldy after the war. When the famous soldier died in 1872, Baldy was the riderless horse at Meade's elaborate funeral. The beloved Baldy now became known as "Old Baldy." He lived another 10 years after Meade's demise. He was retired to a farm near Jenkintown and passed away on Christmas Day 1882. According to legend, Old Baldy was buried on the farm, but a couple of Meade's veterans quickly dug up the carcass and had his head mounted. However, historians believe that these men who served under Meade were granted permission to remove and mount the head of the noble steed.
Old Baldy is on display at the Grand Army of the Republic Museum and Library (4278 Griscom Street, Philadelphia). Visit the museum's Website.