Paoli Massacre: Part 1 of 7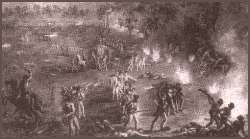 Courtesy National Center for the American Revolution/Valley Forge Historical Society
Detail of a painting of the Paoli Massacre

---
Midnight. Paoli. Hidden deep in a forest, homeboy Anthony Wayne, a 32-year-old Division leader, plans a surprise attack on the rear column of the British army. Around him, shadowy campfires dimly illuminate a meadow encampment of 1,500 soldiers under his command. Some troops are warming themselves in the chill first minutes of September 21; others are asleep in crude huts or "wigwams." Wayne, who is virtually camped in his own backyard, oversees the careful wrapping of precious ammunition and reviews plans for his assault which is scheduled to commence in a few hours.
Brigadier General Wayne knew the area around Paoli well — he had grown up here. The encampment was located less than four miles from his birthplace and present home. As a youngster he had played war in the hills and hunted in the forests. Now he was a promising officer with intimate knowledge of the local terrain and roads. As such, Washington had given him a special mission: a surprise sortie into the nearby British rear column or a lightning raid aimed at the Redcoats' baggage trains.
But disturbing reports had been trickling in throughout the night that the British themselves were planning a surprise attack.
The hunter was about to become the game.
Morning of the Massacre
At dawn on the morning of the 20th, Wayne wrote the following harried message to Washington: "There never was, nor never will be, a finer opportunity of giving the enemy a fatal blow than the present — for God's sake push on as fast as possible." Anxious to attack, Wayne did not wait for Washington to return from his ammunition-gathering mission. Instead, he marched his troops toward the British camp in Tredyffrin. He had hoped to find the enemy on the move, making it easier to attack their column from the rear. But hope soon turned to disappointment. Wayne observed, "When we arrived within a half mile of their encampment [we] found they had not stirred but lay too compact to admit attack with prudence."
Wayne withdrew to a secluded camp two miles southwest of Paoli to await reinforcements, particularly Maxwell's command. Unbeknownst to Wayne, Washington had ordered Maxwell to the opposite side of the Schuylkill. Worse yet, Washington, after gathering new ammunition, made for Parker's Ford on the opposite side of the river. Perhaps worst of all, British patrols had intercepted several of Washington's dispatches which tipped Howe off to Wayne's whereabouts and plans. Though this game of cat-and-mouse was being played out virtually in Wayne's backyard, the British and their network of spies were getting far the better of it.
Howe Plans a Massacre
Once General Howe ascertained Wayne's position, he concocted a plan. First, rumors were floated that an attack of Philadelphia was imminent. Here British Captain John Andre takes up the story:
Intelligence having been received of the situation of General Wayne and his design of attacking our rear, a plan was concerted for surprising him, and its execution was entrusted to Major General Grey.