A Dangerous Night
Sleeping too close to enemy lines had proven dangerous to a fellow American officer recently. While surveying before the Battle of Long Island in 1776, Charles Lee, a brilliant officer and tactician, was captured in a house in Basking Ridge, New Jersey, quite near enemy lines.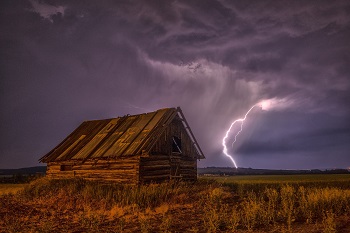 According to some historical accounts, Washington, Greene, and Lafayette dined at Elk Tavern, which would become Howe's headquarters the following night. After dinner they proceeded back toward Wilmington. They were forced by a thunder storm to seek shelter. They stopped at a farmhouse near Cooch's Bridge where they spent the night. The farmhouse was within miles of the enemy.
They did not reveal their identity to the owners of the farmhouse. They slept on a hard, downstairs floor.
Years later, recalling the words of his father, Nathaniel Greene's son wrote:
"It [the 27th] was a gloomy evening, with a black storm without and the crowded little room within, clothes drenched with rain, and uppermost in every mind but Washington's the fear that some partisan of the enemy might secretly bring him down upon them as he had been brought down upon [Charles] Lee not a twelvemonth before ... But the night passed away without alarm, though sleepless for Greene, and at daybreak they were all in the saddle again, glad to feel their horses under them and see an open road before them; and then, as he set spurs to his steed, Washington frankly avowed that he had made a lucky escape and done an imprudent thing."
---
---