Lower Burying Ground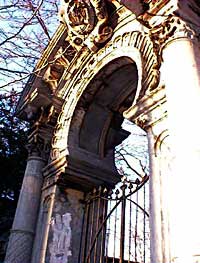 This elaborate arching gate is at the entrance to the lower burying ground.
In 1692 Leonard Arets set aside by deed a half-acre of ground for burial purposes for Lower Germantown. By 1750 this cemetery was becoming crowded so the trustees limited burials to citizens of Lower Germantowns, and, as in so many cemeteries of the time, a space was designated as "Strangers' Ground."
Here among the old trees, rose bushes, and weathered stones lie 41 soldiers who fought in the Revolution and soldiers from War of 1812, the Seminole War, Mexican War, and Civil War. One of the graves of interest is that of Sergeant Charles S. Bringhurst, who three times climbed to the rampart atop Fort Sumter to replace the flag when it was shot down by Confederates during the opening engagement of the Civil War. The earliest tombstone is of Samuel Coulson who died at the age of nine weeks on October 18, 1707.
William Hood, a Germantown resident, gave the money for the front wall and gate in exchange for being allowed to select his own burial spot near the entrance. Hood died in Paris in 1850 and was buried in the grave he had chosen on the very day the work was completed on the entrance gate and wall.
Sources:
1. Photos by Greg Heller, Copyright © 2000 by the Independence Hall Association
2. Marion, John Francis. Bicentenial City: Walking Tours of Historic Philadelphia. Princeton: The Pyne Press, 1974.

---