Loudoun
4650 Germantown Avenue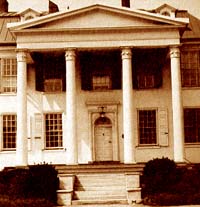 The Greek revival facade of loudoun.
Source: Marion.
Loudoun is one of the glories of Germantown and of Philadelphia. Built about 1801 by Thomas Armat, it commands a promontory and creates an illusion that we are back two centuries in time. Loundoun is currently closed due to damage from a severe fire.
The original house or the east end was built in 1801. The west end was built in 1810, and the Greek portico in 1830 at the height of the Greek Revival. As late as 1888 a two-story loft was added. The house, incidentally, was named after Loudoun County, Virginia, where Thomas Armat first settled when he came to America from Cumberland, England.
This imposing Federal house stands thirty feet above the Avenue and some 100 feet back from it, lending it an aspect of grace and serenity. Inside are furniture and paintings of the 18th, early 19th, the later Victorian period, and the 20th centuries. Over the course of five generations of one family are reflected in the changing styles and fashions in the decorative arts.
During the Battle of Germantown, wounded American were carried to the top of the hill on which Loudoun now stands. They were later carried in wagons to the city. Many of the dead after this battle may have been buried here. Also, there is evidence that had Philadelphia remained the nation's capital, the capitol itself would have been built where Loudoun now stands.
Loudoun has a ghost who continues to haunt the house, named "Little Willie." The ghost is actually William Armat Logan, a descendent of James Logan of Stenton and Thomas Armat.
Sources:
1. Jenkins, Charles F. The Guide Book to Historic Germantown. Germantown Historical Society, 1973. 2. Marion, John Francis. Bicentenial City: Walking Tours of Historic Philadelphia. Princeton: The Pyne Press, 1974.

---