July 4, 1776, a little before midnight
Dear descendants,
Everybody has gone to bed and here I am, unable to sleep, looking at the moon. I would like to send you an exciting, vibrant message, but I don't know what to say, I don't know who you'll be. If, as rumors have it, Grandfather is sent to France this coming fall to help Silas Deane who has not been very successful so far, he will certainly take me along. Should we lose this war, I may have to spend my life over there, so you may turn out to be French — possibly unable to understand what I have written? If my father eventually goes to England in exile, I may well end there, too, so you'll be English, perhaps, none too happy to have this "rebel" in your ancestry. But then, you may not come into existence at all. What proper girl would marry the twice illegitimate offspring of a colonial family?
On whose side am I in this terrifying conflict? When I arrived here, I felt intensely English, but now I think the King and Parliament showed so little understanding of the situation, so much arrogance...
Once again, as in my first diary, I feel that my destiny is completely out of my hands. No choice.
Still, I have become so fond of you during these months of writing that I'll cling to the hope of your appearance somewhere in the world, and even of your affection for
WILLIAM TEMPLE FRANKLIN,
also known as Billy
*** END OF DIARY ***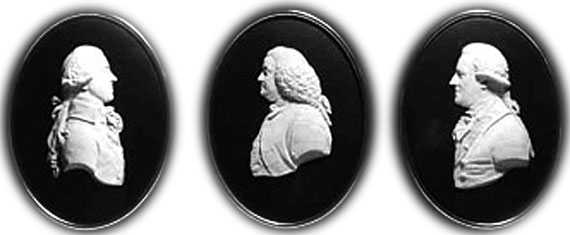 American Philosophical Society
Beginning in 1774, The English potter Josiah Wedgwood introduced a series of small portrait medallions depicting famous figures of the day. Shown here, left to right, are medallions of Temple Franklin, Benjamin Franklin, and William Franklin.