June 20, 1776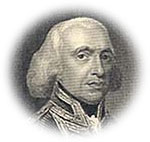 Admiral Richard Howe, painted by Hoppner.
Lord Admiral Richard Howe, the Peace Commissioner from England, has finally arrived and sent a circular letter to all colonial governors promising pardon to those who help to restore order. Too late, alas. Those conciliatory words, I fear, won't do any good.
Grandfather writes to General Washington that he has been ill and out of touch, but he knows that a Declaration of Independence is in the works.