March 2, 1776
History, being History you must remember that a little while ago I told you about a new committee: the Committee of Secret Correspondence (not to be confused with the Secret Committee!), a committee of five people headed, as usual, by Grandfather. Their first enterprise was to get a Monsieur Dumas involved in helping the cause of the colonies. As I was transcribing Grandfather's letter to Dumas, I was wondering how a private citizen, living in Holland, might be able to help. But this new letter that Grandfather has just thrust into my hands, asking me to copy it, is quite different. It is an American, this time, who is being sent to France. A man named Silas Deane.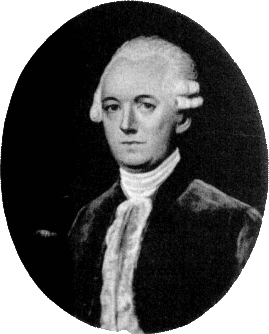 Silas Deane, America's first envoy to France.
— "Do you know this Silas Deane, Grandfather?"
— "Somewhat. He grew up in Connecticut, became a teacher, then turned to law and graduated from Yale, America's best center of learning along with Harvard. He has served as one of Connecticut's delegates to the Continental Congress for the last two years but has not been re-elected, so that he is free to travel. He is also experienced in business."
— "Is he fluent in French?"
— "Hardly anybody is around here, but the French Court has excellent interpreters. Of course, we'll have to equip him with the best possible set of instructions, now about to be diligently transcribed by you, Temple. And once again, PLEASE, NOT A WORD TO ANYBODY."
I sigh: "Why hasn't somebody invented a copying machine? It should be easier to invent than a printing press, no?"
— "If someone invents one, I'll be the first to buy it, I promise you."
Whereupon he pats me on the shoulder and departs.
Poor Silas Deane! Poor Temple! This is a long document.
First of all, Mr. Deane is to pretend for the whole length of his stay in France that he is just a merchant engaged in the business of providing goods for our Indian trade — the Indians, it seems, are fascinated by the European use of metal and they want lots of iron cooking pots as well as iron heads for their tomahawks. They also yearn for warm woollens since they do not have sheep.
However, Mr. Deane's main object would be to perform a delicate diplomatic mission. Under the guidance of Grandfather's pro-American friends, he is to contact the Comte de Vergennes, France's Minister of Foreign Affairs, and obtain a meeting with him. In the course of that meeting, he should reveal that he has been dispatched by Congress to apply to some European power for a supply of military equipment. France is the country of choice for such an application. Given the wealth that England has accumulated from its trade with the American colonies, France stands to have much to gain from replacing England and benefiting from commercial relations with a part of the world whose population is increasing at a rapid pace.
Should Mr. Deane find the Foreign Minister not inclined to engage in free conversation, he should shorten his visit, leave his memorandum for consideration, as well as his address, and mention that he will remain in Paris for some time.
Should he be summoned to a later visit, he should try to find out whether, in case the colonies were forced to reform themselves into an independent state, France would acknowledge them as such, receive their ambassadors, enter into any treaty or alliance with them, for commerce, or defense, or both.
On top of all that, Mr. Deane should — of course! — keep a daily Journal of all his material transactions, record his conversations with important people, keep Congress informed, visit Mr. Dumas in Holland and obtain credit for purchases of war supplies if the French government refuses to get involved.
This, dear descendants, is a mere summary of the Congressional instructions.
All I can say is: Good luck, Silas Deane!