May 17, 1775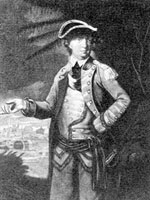 Benedict Arnold
Great excitement in Philadelphia. Somewhere near the Canadian border, Fort Ticonderoga, which was in the hands of the British, has been captured without a fight by American irregulars. They are called the Green Mountain Boys, and are led by a certain Ethan Allen and a certain Benedict Arnold. Uncle Richard wrote down those names for me, because he thinks they will be much talked about.
I don't know how important this action will turn out to be, but a quantity of lead and a great number of cannon were seized there, so morale here is high now.
Benny and Willy, those great strategists, are more bellicose than ever. And me? I'm not taking sides. I'll just report what's going on.
And so, I'm reporting that this Fort Ticonderoga occupies a strategically important position on the outlet of Lake George; that is, on the line of water communication between Canada and the English colonies. There is much talk about inviting Canada to join the American provinces in their struggle, but I would be surprised if they accepted. The Canadians still view themselves as loyal British subjects. They have been suspicious of the Americans ever since the French and Indian War. Congress is pursuing its effort to organize an army — defensive, of course. Reconciliation is still the big word.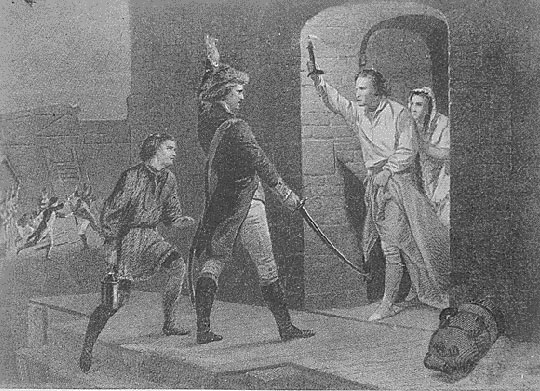 Ethan Allen and Captain de la Place. May 1775. The capture of Fort Ticonderoga, New York. Copy of engraving after Alonzo Chappel.
To get back to this Ethan Allen, I read somewhere (but where?) that he is "a backwoods strategist untrammeled by military pedantry." What a great way to put it!