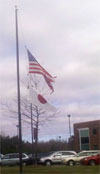 Click for enlargement.
These flags are flying at half staff and have been for over a week when the US flag and State of CT flag should be flying at full staff. The US flag is ripped and tattered. The flag of Japan flies from the same halyard below the US Flag. These flags and three more on the premises are all flying at half staff. They are flying on the grounds of the Granby Middle and High School complex, Granby, Connecticut. Picture credit: WeThePeopleGranby.com
Submitted by Terry White
"When flags of two or more nations are displayed, they are to be flown from separate staffs of the same height. The flags should be of approximately equal size. International usage forbids the display of the flag of one nation above that of another nation in time of peace." (Flag Code, Section 7g)
"The flag, when it is in such condition that it is no longer a fitting emblem for display, should be destroyed in a dignified way, preferably by burning." (Flag Code, Section 8k)
Section 7m. specifies the occasions upon which the flag may be flown at half-staff.
When the US flag is at half-staff, other foreign national flags are flown at full staff alongside the US flag flag. (Reference: Department of the Army Pamphlet 600Ė60)