40a. The Massacre at Sand Creek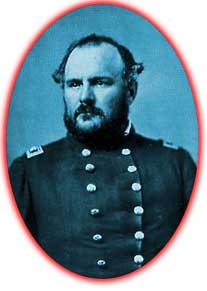 Library of Congress
Colonel John M. Chivington attacked an unsuspecting village of Cheyenne and Arapahoe Indians camped on Sand Creek. An eyewitness testified: "...I think I saw altogether some seventy dead bodies lying there; the greater portion women and children. There may have been thirty warriors, old and young; the rest were women and small children of different ages and sizes."
The struggle would be violent. Despite numerous treaties, the demand for native lands simply grew and grew to the point at which rational compromise collapsed. Local volunteer militias formed in the West to ensure its safe settlement and development. The Native Americans were growing increasingly intolerant of being pushed on to less desirable territory.
The brutality that followed was as gruesome as any conflict in United States history. Accelerated by the Sand Creek Massacre, the two sides slipped down a downward spiral of vicious battle from the end of the Civil War until the 1890s.
Massacre
Sand Creek was a village of approximately 800 Cheyenne Indians in southeast Colorado. Black Kettle, the local chief, had approached a United States Army fort seeking protection for his people. On November 28, 1864, he was assured that his people would not be disturbed at Sand Creek, for the territory had been promised to the Cheyennes by an 1851 treaty. The next day would reveal that promise as a baldfaced lie.
On the morning of November 29, a group called the Colorado Volunteers surrounded Sand Creek. In hope of defusing the situation, Black Kettle raised an American flag as a sign of friendship. The Volunteers' commander, Colonel John Chivington, ignored the gesture. "Kill and scalp all, big and little," he told his troops. With that, the regiment descended upon the village, killing about 400 people, most of whom were women and children.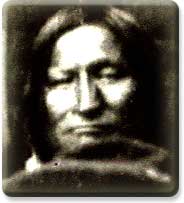 Chief Black Kettle
The brutality was extreme. Chivington's troops committed mass scalpings and disembowelments. Some Cheyennes were shot while trying to escape, while others were shot pleading for mercy. Reports indicated that the troops even emptied their rifles on distant infants for sport. Later, Chivington displayed his scalp collection to the public as a badge of pride.
Retaliation
When word spread to other Indian communities, it was agreed that the whites must be met by force. Most instrumental in the retaliation were Sioux troops under the leadership of Red Cloud. In 1866, Sioux warriors ambushed the command of William J. Fetterman, whose troops were trying to complete the construction of the Bozeman Trail in Montana. Of Fetterman's 81 soldiers and settlers, there was not a single survivor. The bodies were grotesquely mutilated.
Faced with a stalemate, Red Cloud and the United States agreed to the 1868 Treaty of Fort Laramie, which brought a temporary end to the hostilities. Large tracts of land were reaffirmed as Sioux and Cheyenne Territory by the United States Government. Unfortunately, the peace was short-lived.