33i. The Road to Appomattox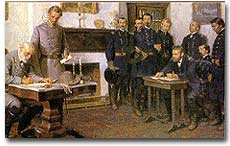 Ulysses S. Grant and
Robert E. Lee
signed the surrender for the Army of Northern Virginia on April 9, 1865, in Appomattox Court House, Virginia. The surrender is often called the Gentleman's Agreement because of the character of both generals.
The end was in sight.
Only Lee's Army of Northern Virginia remained as a substantial military force to oppose the Union Army. For nine months, Grant and Lee had faced each other from 53 miles of trenches during the Siege of Petersburg. Lee's forces had been reduced to 50,000, while Grant's had grown to over 120,000.
The Southern troops began to melt away as the end became clear. On April 2, Grant ordered an attack on Petersburg and broke the Confederate line. Lee and his shrinking army were able to escape.
Lee sent a message to Jefferson Davis saying that Richmond could no longer be defended and that he should evacuate the city. That night Jefferson Davis and his cabinet set fire to everything of military value in Richmond, then boarded a train to Danville, 140 miles to the south. Mobs took over the streets and set more fires. The next day, Northern soldiers arrived. And one day after that, Lincoln visited the city and sat in the office of Jefferson Davis.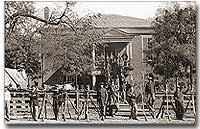 These Union troops posed in the village of Appomattox Court House in 1865.
Lee's Army of Northern Virginia, now reduced in size to 35,000 troops, had escaped to the west. They were starving, and Lee had asked the Confederate Commissary Department to have rations for his infantry waiting at the Amelia Courthouse. But when he arrived there, no rations awaited his troops, and they were forced to forage the countryside for food. The delay caused by his need to acquire food proved fatal to the Confederate effort.
Now 125,000 Union soldiers were surrounding Lee's army, whose numbers had been reduced to 25,000 troops and were steadily falling. Still, Lee decided to make one last attempt to break out. On April 9, the remaining Confederate Army, under John Gordon, drove back Union cavalry blocking the road near the village of Appomattox Court House. But beyond them were 50,000 Union infantry, and as many or more were closing in on Lee from his rear. It was over.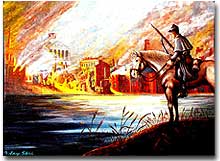 Confederate troops burned Richmond as they retreated to the South.
Lee sent a note to Grant, and later that afternoon they met in the home of Wilmer McLean. Grant offered generous terms of surrender. Confederate officers and soldiers could go home, taking with them their horses, sidearms, and personal possessions. Also, Grant guaranteed their immunity from prosecution for treason. At the conclusion of the ceremony, the two men saluted each other and parted. Grant then sent three day's worth of food rations to the 25,000 Confederate soldiers. The official surrender ceremony occurred three days later, when Lee's troops stacked their rifles and battle flags.
President Lincoln's will to save the Union had prevailed. He looked with satisfaction on the survival of his country and with deep regret on the great damage that had been done. These emotions did not last long, however.
Lincoln had only five days left to live.