The President's House
---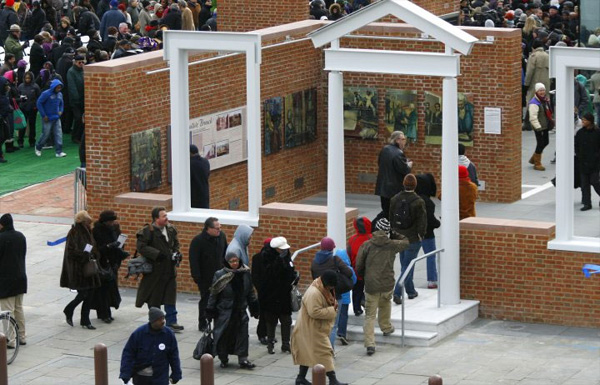 H. Rumph Jr./GPTMC
Presidents Washington and Adams lived and worked here while Philadelphia was the national capital from 1790-1800.
This house was the Executive Mansion of the United States from 1790 to 1800 during Philadelphia's tenure as the national capital. George Washington and John Adams each lived and worked here, a block north of Independence Hall, for most of their Presidencies.
When, in 2002, historian Edward Lawler Jr. published his discovery that the entrance to the newly planned Liberty Bell Center was a mere 5 feet from the location where Washington built housing for several of his slaves, a public outcry demanded that this site be commemorated, especially focusing on the lives of nine people who were enslaved descendants of Africans. Their names: Oney Judge, Moll, Austin, Hercules, Richmond, Giles, Paris, Christopher Sheels, and Joe (Richardson).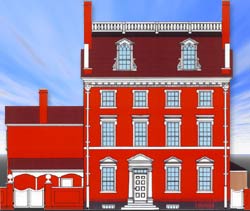 A commemorative exhibition opened in December 2010 giving an outline of the Presidencies, an outline of the house, and an exploration of the lives of those who were enslaved and toiled for Washington in Philadelphia.
A visit to Independence National Historical Park allows you to explore the two great founding documents of America: the Declaration of Independence (interpreted at Independence Hall) and the Constitituion (interpreted at the Constitution Center), along with the Liberty Bell and its association with Independence and Abolitionism, Betsy Ross and her flag, and much more Colonial and Revolutionary history.
Now it also includes that central, but far less noble, story of slavery in America. This great nation was built on great concepts and great aspirations, but also on hundreds of years of free labor. The hypocracy of declaring that "All men are created equal" while denying a great portion of this nation even the basic right of freedom, is explored in this space.
Read more about the history and archeology at the President's House, the public controversy concerning the site, the laws about slavery in Pennsylvania and much more on our Presidnet's House site.
---
There is now a commemoration to the slave quarters Washington ordered, several feet from the entrance to the Liberty Bell Center
Two enslaved people who toiled in Philadelphia escaped from George Washington: Hercules and Oney Judge
John Adams did not have slaves; however, he never once made a public statement against slavery, nor did anything to support abolition of the "peculiar institution"
While living in this house, Benedict Arnold began his treasonous correspondence with the Britsh
General Howe lived in this house during the occupation by the British in 1777.
Financier Robert Morris purchased the house in 1785. He rented the house to Philadelphia for use by Washington and Adams.
A public bathroom occupied the site for 48 years in the end of the 20th century
---
Location: Market Street near 6th Street
Built: late 1760s, razed in the 1820's
Commemoration: opened December 2010, an open-air (24 hours/7 days a week) footprint and skeleton of the house, featuring panels and videos exploring the lives of nine enslaved people.
---