Mother and Twins Monument, Laurel Hill Cemetery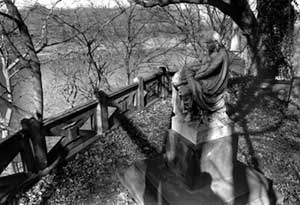 Mother and Twins Monument
For many the most fascinating 95 acres in the city is a hilly Victorian cemetery with thousands of elaborate tombs, gravestones and soaring monuments. Laurel Hill, which opened in 1836, is as much a sculpture garden as burial ground. Of all the monuments in this National Historic Landmark, one stands alone for sheer pathos and poignancy.
The monument is a statue of a mother holding a pair of infants. It was carved by her husband, and the father of those children, Henry Dmoghowski-Saunders (or Sanders), a Polish sculptor whose busts of Thaddeus Kosciuszko and Casimir Pulaski are on display in the U.S. Capitol.
A popular though erroneous legend says that the site of the statue overlooks the spot on the Schuylkill River where the babies drowned. For years, cemetery guides believed the mother and her children all died together in a boating accident. The true story differs in the details, but is just as sad. The first child was stillborn in 1855. The second child was born two years later, and died shortly afterwards, as did his mother who was interred on July 27, 1857.
After finishing the sad monument to his departed (but not drowned) wife and children, Henry returned to Europe and never came back to America. Time and the elements have done much to erase the details of the marble monument. There are inscriptions on three sides of the base in Polish and English.
To the memory of Mary Schaaff. Wife of Henry Dmoghowski-Saunders. Born Neustadt on the Rhine May 24, 1823. Died Philadelphia July 8, 1857. Her children repose with her.
Parts of the other English inscription are too worn to read. This is what can be made out:
We Should Count Time in Heart Throbs. He Most Lives who Thinks Most. Feels the Nobelest. Acts the Best.