The Grindstone Church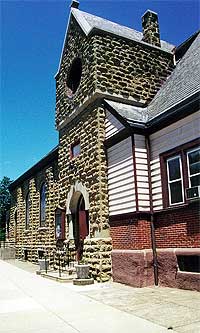 Tacony Baptist Church, originally built out of wood, had its sanctuary built out of cut grindstones. In front of the doorway are two uncut stones with flower pots resting on them.
The city's Tacony section was created as a company town in the mid 19th century by Henry Disston and Sons. Disston's Keystone Saw Works, with 2,500 employees was the world's largest manufacturer of saws of all shapes and sizes. The neighborhood is home to, perhaps, the only church in America built from an industrial waste product --- old Disston grinding stones.
Tacony Baptist Church was built of wood in 1884, but in 1915 a new sanctuary was created out of hundreds of spent sandstones that had been used to grind and sharpen saws. All the stones started as circular grindstones, seven feet in diameter. After two months of grinding they were reduced to four feet. The outer rim of the stones now circled too slowly and had to be replaced. A staff of 10 workers did nothing but replace stones. The spent stones were stacked on the grounds of the riverfront industrial plant.
Then various purposes were found for the useless stones. They were used as street foundations and river walls. They were cut in half and used as walls around the Disston Recreation Center. And the company donated tons of the old stones to the church for its expansion. The stones were broken, squared and trimmed so they no longer look like round grindstones. However, two uncut grindstones were placed in the sidewalk next to the church.
Another unique aspect of the church, at Hegemann and Disston streets, is its bell. Cast in 1860, the bell was used in the Sanitary Fair of 1864 in Logan Square. The event was a grand affair to raise money for soldiers injured in the Civil War. Fair visitors included President Abraham Lincoln. When the fair ended, the bell was purchased at auction by Henry Disston to call workmen to the job and was eventually acquired by the church.