Wistar Brain Collection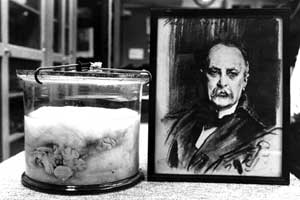 Wistar Brain Collection
If you study the brains of uncommonly intelligent or creative people — the great scientist Joseph Leidy or poet Walt Whitman, for example — and compare their brains with the ignorant or insane, it might reveal the secrets of human intelligence. The idea made a lot of sense back in the late 19th century. So, several of Philadelphia's greatest intellectuals signed papers stating their brains were to be removed after their deaths for later study. The brains of those who joined "The Brain Club" or "The American Antropometric Society" now rest in a dark closet at the Wistar Institute, the nation's oldest non-profit medical research center on the campus of the University of Pennsylvania.
Two studies were carried out. Dr. Edward A. Spitzka in 1907 examined the brains of "six eminent scientists and scholars belonging to the American Anthropometric Society." A 1927 study was performed on the brains of "three scholars," including the famed physician Sir William Osler. Osler actually wrote a note as he lie dying directing that his brain be removed and shipped to the Wistar Institute in Philadelphia. Both studies claimed to find difference between the brains of the elite and the less intelligent. Modern scientists have failed to see any marked differences.
The brain collection is not on display but urns containing the ashes of several club members can be seen. The Mutter Museum, one of the nation's most interesting medical museums, once borrowed Osler's brain so it could be present at a meeting of the Osler Society. Poor Walt Whitman's brain was destroyed and discarded after a clumsy lab assistant dropped the bottle containing the great poet's gray matter.