Lazaretto Quarantine Station: History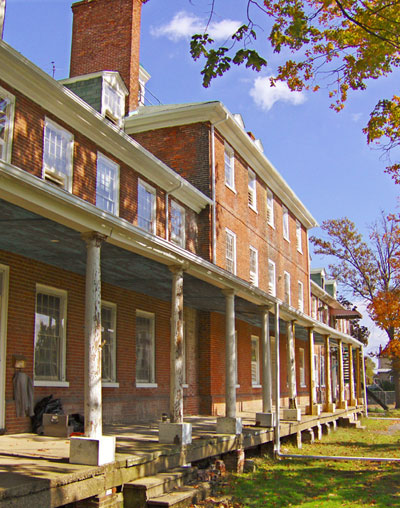 Main Lazaretto building from the SW. Photo by Randy Cotton
The historic practice of isolating the diseased dates back to ancient times. In the 7th century, Emperor Justinian required all new arrivals from plague-infested regions be temporary isolated. About the same time, Chinese authorities adopted a similar policy for sailors and foreign travelers. Venetians established the first institutionalized system of isolation during the Black Death, detaining ships for 40 days (thus introducing the word quarantine from the Italian quaranta giorni, "forty days" ). In 1403, the world's first maritime quarantine station, or lazaretto, named for Saint Lazarus, was built on an island approaching Venice.
Colonial American quarantine law began in 1663, when New York restricted entrance to the city attempting to curb an outbreak of smallpox. In the 1730s, officials built a quarantine station on Bedloe's Island in New York Harbor. The Philadelphia Lazaretto was built in response to the devastating yellow fever epidemics of the 1790s. These outbreaks were so severe, they temporarily drove the national government out of Philadelphia, then the nation's capital. The 10-acre Lazaretto, built with a hospital, offices and residences on the banks of the Delaware River in Tinicum Township, processed ships, cargo and passengers sailing for the port of Philadelphia for nearly a century.
The Philadelphia Lazaretto is believed to be the last surviving example of its type in America. Bedloe's Island in New York harbor was long ago cleared, renamed and later became the site of the Statue of Liberty. Between 1885 and 1938, officials isolated victims of smallpox at Riverside Hospital on North Brother Island in New York's East River. (The famous "Typhoid Mary" was quarantined there.) In California, San Francisco officials attempted to contain cholera at the Ayala Cove Quarantine Station on Angel Island. This site was demolished in the 1950s, when the site became a state park. The Philadelphia Lazaretto remains as the oldest extant example of this and important type of site. It stands today as it has for the last 206 years on a flat stretch of riverbank in Tinicum Township, Pennsylvania, a town of 4,500 nestled between Interstate 95 and the Delaware River, just south of the Philadelphia city line.
Tinicum Township prides itself as the "First Permanent Settlement in Pennsylvania." A statue of Johann Printz, the first Governor of New Sweden, sits in the center of the 7-acre Governor Printz Park, nearby the Lazaretto. The fact that some of the earliest European arrivals to the New World stepped ashore on this flat stretch of green riverbank in the 1640s and the Lazaretto continued to operate up to the Civil War makes Tinicum an important and unique site of American arrival for more than 350 years.