Swim Fins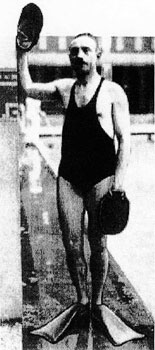 Swim fins by Frenchman Louis de Corlieu, in 1933, similar in concept to Franklin's invention.
Benjamin Franklin was an avid swimmer from a very young age. Throughout his life he consistently promoted its healthful benefits. At the ripe old age of 11 he invented a pair of swim fins. However, unlike today's foot flippers, these were attached to one's hands. His advocacy for swimming was recognized by his induction into the International Swimming Hall of Fame in 1968.
Franklin wrote, in March 1773:
When a youth, I made two oval pallets, each about ten inches long, and six broad, with a hole for the thumb, in order to retain it fast in the palm of my hand. They much resembled a painter's pallets. In swimming I pushed the edges of these forward, and I struck the water with their flat surfaces as I drew them back. I remember I swam faster by means of these pallets, but they fatigued my wrists. I also fitted to the soles of my feet a kind of sandals, but I was not satisfied with them, because I observed that the stroke is partly given by the inside of the feet and the ankles, and not entirely with the soles of the feet.
---
Franklin originally wrote this, in English, to his French translator. It was translated into French and published in a collection of Franklin's letters. The above has been re-translated from the preserved French translation which can be read here
(While he was a very popular ambassador to France, Franklin had only limited command of the French language)
---